Doors Slidell, Louisiana
Much like your windows, your front door is one of the main focal points on your home. They represent the first point of contact for your guests when they enter your home, their decorative quality compliments your home, and they serve as the connection between your life inside and your life outside. Here at Acadian, we make the best doors Slidell has to offer.
As our name suggests, Acadian Windows and Siding specializes in all-around home improvement—and doors are one of our most popular offerings. Continue reading to learn more about the variety of doors we offer and what makes our doors the best doors in Slidell.
How Slidell Doors Are Made at Acadian
The three main door types we make and install are entry doors, patio doors, and storm doors. Each type of door is completely customizable, and they're available in a wide variety of styles. At Acadian, we apply our craftsmanship to our selection of materials and inventory to create a truly unique product.
We use three materials for our doors:
Our doors are hand-stained and cured to ensure they're durable while retaining those deep, rich hues. We use an electrostatic paint that provides the doors with an even coat and beautiful color.
Additionally, we employ state-of-the-art technology to make sure our doors stand the test of time. We use nickel vapor deposition technology and engineered compounds that fortify our doors. This way, they resist denting, warping, and other age-related damage.
Choosing Your Material
At Acadian Windows, we offer the types of doors Slidell, Louisiana residents love best—both for their looks and quality. We utilize three main types of material: fiberglass, steel, and wood.
Our experts will assist you in choosing the best material throughout the buying process. But if you wish to learn more about these materials beforehand, we'll cover them briefly below. 
Fiberglass:

Fiberglass doors are made from glass fiber-reinforced plastic, otherwise known as fiberglass. Fiberglass doors are highly durable and customizable, giving your home a versatile look that will last a lifetime for an affordable price point. If you want to learn more,

read about the top benefits of fiberglass doors

on our blog.

Steel:

Acadian's steel doors are constructed from high-grade steel that makes them highly durable, easy to maintain, and incredibly safe. Steel has been a popular option for decades and will make a great addition to any home. Learn more about steel doors in our blog post titled, "

Fiberglass Doors vs Steel: What is the Best Option in the South?

"

Wood:

Wood is a classic material that has been used in doors for centuries. Nothing quite touches the classic look and feel of wood. Modern technology has allowed us at Acadian to ensure that wooden doors match up with the look and feel of more modern materials, such as steel and fiberglass. Learn more about wooden doors in our blog post titled, "

Fiberglass vs Wood Doors: Which One Is Right for You

."
While you can make any material work in any home with any decor, certain door types may suit your needs more than others. If you're still stumped on which material is right for you, feel free to contact us and speak with a professional. Additionally, you can learn more about different materials for doors, windows, and more by visiting our blog.
Selecting Your Slidell Entry Doors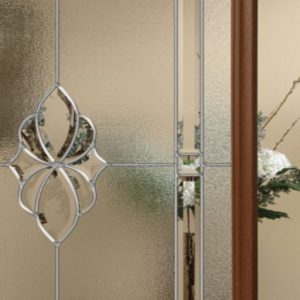 Entry doors serve as the entrance to your home, and they're the first thing people see. Since you use them every day, it's important they're perfect in every way.
Acadian's doors are custom-built with your style in mind. This way, they fit your home's aesthetic while providing you with security, durability, and energy-efficiency.
You can choose from a fiberglass or steel construction, and you can add custom glass patterns to achieve the perfect look. Our decorative glass is hand-crafted by our technicians with precise cutting, mitering, and soldering techniques. Fiberglass doors can also be stained. The result is a centerpiece that stands out from the rest.
The custom textures, waves, and seeds in our glass alter the way light enters your home, and, along with colored glass and other effects, we can make sure the light that bathes your interior space perfectly.
You can also choose between our weather-resistant composite door frames and exterior brickmold or our PVC vinyl-coated aluminum frame with exterior cladding—both of which create a great seal, insulate your home, and resist rot and wear.
Acadian's hardware is from Emtek® and Schlage®, both of which are well-known for their stylish and durable handles, knobs, and locks.
Choosing Patio Doors Slidell Residents Trust
Along with entry doors, Acadian also makes the quietest patio doors on the market. We make patio doors Slidell can trust because they're secure, durable, and stylish too.
Acadian's patio doors feature our custom multi-chamber design. This means they stand up to bad weather and insulate your home, making the inside temperature comfortable and making your home more energy-efficient.
Acadian's patio doors are quiet and smooth because we include our patented self-lubricating sliding system. It features tandem wheels that stay smooth and quiet over the course of their lifespan.
Our patio doors feature:
Rigid frames

Self-cleaning tracks

Anodized aluminum tracks built into the sill

Adjustable spring-loaded suspension systems

Steel reinforced panels
Our customers can also choose from 2-panel, 3-panel, and 4-panel configurations.
Slidell Storm Doors that Are Built to Last
Preparing for hurricane season? Acadian also makes trustworthy and reliable storm doors Slidell can count on. However, more durability doesn't mean less light and ventilation. Acadian's storm doors increase light, airflow, and security.
A large portion of storm-related damage comes by way of windows and doors. If you're living in the South, it's important that you fortify these areas so that you don't fall victim to the region's unique weather patterns.
Acadian's Slidell storm doors come fortified with extruded aluminum frames and ultra-tough safety glass, much like the glass used in windshields, allowing them to stand up to high winds and debris.
Our storm doors are infinitely customizable to ensure that you get exactly what you want and exactly what your home needs to stay safe. We firmly believe that safety shouldn't come at the cost of style. You can choose different colors and styles that are baked into the frame, giving you a finish that lasts for years and years.
Why Acadian?
Acadian Windows is committed to staying true to our name. Our mission is to provide specialized service to the South, utilizing our years of experience in the area to help you choose the home improvement solutions right for you.
We have what larger chains and national corporations lack. Acadian was created in the South, for the South. Our team is focused on supplying our customers with the skills and knowledge we have gained over decades of living and doing business in the South to produce high-quality work that makes sense for the region.
Our selection of materials, products, and services have all been chosen in order to best serve our community and withstand the South's unique weather and climate. Acadian is proud to offer you the best combination of safety and style in the region.
The Best Doors Slidell Has to Offer
At Acadian, we pair our high-quality products with unparalleled customer service. Our technicians receive hands-on training, and they know how intrusive some contractors can be. We do our best work every time, offering you the quickest and least intrusive service possible.
We're proud to have won several Super Service Awards from Angie's List, and our A+ Rating from the BBB is a badge of honor.
If you're ready to team up with Acadian Windows and Siding, contact us to discuss how we can bring you the best doors in Slidell.