Windows are the first thing you notice on a home. At Acadian, we offer every type and style of window. Whether you're looking for beautiful Wood or Aluminum Clad windows to give your home that timeless look, or you're wanting to update those old single-pane windows to new insulated vinyl windows, our products carry the industry's best warranties. Replacing windows or building a new house, all of our windows come Double insulated and backed with a lifetime warranty.
Select from below to learn more.
Why Acadian Is the Best Window Company
If you're looking for one of the best window companies in the South, look no further than Acadian Windows and Siding. We're a premier window company that has what it takes to see your project from beginning to end. We offer a comprehensive knowledge of the industry with high quality, durable materials that can rival window companies across America. Everyone knows where to go when you want the best windows in town. Whether it's our industry-grade wood windows or our fancy vinyl windows, we've got you covered. Don't believe us? Keep reading to find out about some of the hottest window trends we offer. 
Window Materials
One of the hardest decisions when it comes to home improvement is figuring out which window material best suits your home. There are plenty of window styles that we'll get to below, but the type of window material is the first step in choosing the right windows for your home. A window is nothing without its frame and you want to pick a window material that looks good and lasts you a long time. Check out some of the options that Acadian has to offer, or get with us for a consultation when you can. 
Wood Windows
Wood windows are a classic home addition that never goes out of style. They are the heart of the windows business, providing sleek lines and personality to any home. The strength of these frames will stand the test of time with durability that will resist elemental chipping. Wood windows are the low maintenance and affordable choice for the budget-conscious homeowners, who want the prettiest bang for their buck. Homeowners choose wood windows when they desire a splash of color for their home, but don't want to commit. With a little paint and some imagination, wood windows are flexible to the stylistic sensibilities of any homeowner looking to upgrade their curb appeal. 
Vinyl Windows
There are tons of window options available at Acadian Windows and Siding, but one of the hottest choices for a little home renovation is a nice new set of vinyl windows. With little upkeep, vinyl windows never require you to stain or paint them after installation. For the homeowner who knows what they want, vinyl windows come in a ton of colors and finishes to create any look that suits your style. These energy-efficient windows keep your budget in mind if you need to replace your home's current windows. One of the most common types of windows, vinyl windows resist fading or damage from the sun and they offer high-quality durability for your home.
Window Styles
View our service areas here.
Single Hung Windows
The Single Hung window consists of an operable sash on the bottom half of the window. This sash slides up and down to open the window for ventilation, as well as tilting inward for easy cleaning. The top half of the window is fixed and does not tilt inward or slide so the vinyl can be formed into a special geometric shape like an eyebrow or half circle.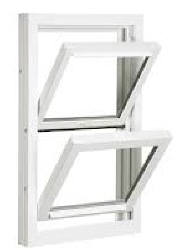 Double Hung Windows
Featuring a classic design, Double Hung windows are a very popular choice of homeowners. They have two sashes that tilt in for easy cleaning and slide up and down for maximum ventilation. Stainless steel coil springs support the weight of the sashes, making them easy to open and close.
2 Lite Slider Windows
A slider window is a horizontal window with sashes that independently slide back and forth. Both sashes move for easy cleaning. This window provides a contemporary look and is a popular option for spaces with more horizontal than vertical space.
3 Lite Slider Windows
A window in which both the left & right sashes opearate & slide horizontally past a middle fixed sash. Equal Lite configuration is where all sashes are equal in size (1/3 – 1/3 – 1/3) & Unequal Lite configuration is where the two outside sashes are same size, however inside sash is larger (1/4 – 1/2 – 1/4).
Bow & Bay Windows
All of these styles project into the outdoors and create additional space and dimension within your room. The frames of the window and also the head and seat board are constructed using only the most expensive 9 ply, Grade-A, hardwood plywood. The mullion posts between the windows in the unit are not only structural, but they are also totally filled with energy efficient die-cut EPS foam.
Garden Windows
Garden windows are designed to let in maximum light to create a healthy growing environment for plants, while still maintaining energy efficiency. This window provides plant shelves to display plants, creating a stunning look in the home, creating a center piece of window style and function. The sloped external roof provides excellent drainage, yet allows the sunlight to flood the room. Operating casements in the window provide full ventilation and are standard with a full screen.
Casement Windows
Casement windows are attached to one side of the frame with a hinge and open by swinging out from the window. Casement windows open with crank and feature a fold-away nesting handle as well as a multi-point locking system. Many homeowners choose our casement windows for their energy efficiency, security and aesthetic beauty. They can be joined together (mulled) and are available in double and triple casement combinations to create an attractive look in a wider space.
Black Windows
A set of stylish black windows become your home's new decoration, but that doesn't mean you can't tap into your interior decorator skills and add specific style elements to suit these black windows. Typically seen on modern houses, black windows can take even a comfortable farmhouse to the next level. These windows are truly suitable for any home design. A pair of sleek black windows can add a simple and timeless look to your home. Acadian Windows and Siding wants to help you make your home into a lovely statement piece in your neighborhood.
Low E – Energy Efficient Windows
A Low E window makes all the difference when you're seeking energy-efficient windows. Energy-efficient windows that use Low E glass have proven to decrease the amount of infrared and ultraviolet light into your home. This is done through the thin, barely visible coating that is laid over the glass surface. This sometimes barely noticeable coating will filter the amount of heat that flows into your home through the window. The U-factor measures the flow of heat that passes through the window. With a lower U-factor like this, the insulation value of the window drastically increases. The whole point in having a set of fresh energy-efficient windows is that it should aid in controlling a fluctuating temperature and electric bill.
With energy-efficient windows that have Low E glass coatings, you can expect a cooler home that is less impacted by the sun's harsh rays. These types of energy-efficient windows are best when you live in the South and have to constantly worry about surviving the heat and keeping your friends and family cool during the summer. Don't let the cool air out of your home by not selecting the most beneficial, energy-efficient windows we have to offer at Acadia. By being extremely adaptable to the climate of your home, these windows are great in the winter too. The Low E energy-efficient windows will reflect warm air back into your home and keep the cool air out, especially when installed by the speedy and efficient installation technicians at Acadian. Believe it or not, these energy-efficient windows are the gift that keeps on giving year-round.
HERO Glass
The Strong, Silent Type. A new laminated glass pane that protects against noise, airborne debris, forced entry and harmful UV rays.
A window is essentially a hole in your home, so strong glass is important to protect your family from the weather and intruders. Hero GlassTM is made with an inner layer of clear, PVB laminate and put through a special heating process, stiffening the pane so that it resists shattering much like auto glass.
A window's sound-blocking ability is expressed as its STC (Sound Transmission Class). The higher the STC, the better. By adding a laminated glass pane like Hero Glass to your glass system you will increase the STC in your window providing you with a barrier to block sound.
Proud to Say that all of our windows are Energy Star and AAMA Approved.
Impact Windows
Tested and Certified to meet the most stringent Coastal Building Code Requirements.
Our windows combine heavy-duty aluminum frames with impact-resistant glass. A special silicone glazing process keeps the glass from shattering. Although the outer-layer of glass may crack on impact, a special inner-layer keeps the glass intact preventing debris from entering your home or business. Our Impact Windows have been engineered to meet the most stringent wind codes in the country.
This remarkable product also provides protection to your draperies, rugs, and furniture from the sun's damaging UV rays. Impact resistance glass reduces outside sound and traffic noise enhancing the serenity of your home.
If you're looking for the perfect New Orleans windows, look into a set of impact windows. Even outside of New Orleans, impact windows are just what you need in hurricane-prone environments. Their strength makes them an excellent choice for homes in Louisiana, Mississippi, Alabama, and Florida. It's the entire purpose of the impact-resistant glass to keep flying objects from crashing into your home during a fearsome hurricane. Impact windows are made with either tempered or laminated glass. Tempered glass is heated and compressed to create durability that is ten times stronger than that of traditional glass. Laminated glass binds panels of glass together with vinyl to form a shatter-proof set of windows that will withstand hurricane debris or your neighbor's softball. Impact windows also serve as a steadfast deterrent to thieves and vandals looking to break into or damage your home.
The Best Windows in New Orleans & Beyond
When it's time to install the best New Orleans windows you know who to call. That goes for all of our service areas in Louisiana, Mississippi, Alabama, and Florida! Acadian Windows and Siding offers a friendly and informative service that will be with you in every step of your home renovation process. Having the right New Orleans windows can make or break a house in the Big Easy—and the same is true in Baton Rouge, Houma, Biloxi, Mobile, Pensacola, and across the Gulf Coast. Choose a company that cares. We take pride in the appearance of our work with quality that lasts.