Doors Metairie, Louisiana
A good, solid, and beautiful set of doors is the final touch on a great home. Here at Acadian, we do much more than just windows and siding. We also make doors Metairie residents love and depend on. Along with main entry doors, we also make patio doors and storm doors that secure, beautify, and insulate your home.
If you are looking for ways to add beauty and value to your home in Metairie, Louisiana, below is an overview of the doors we proudly build and install. Continue reading to get familiar with our offerings, and learn what makes Acadian the best doors company in Metairie.
How Metairie Doors Are Made at Acadian
At Acadian, we make entry doors, patio doors, and storm doors. Each of our doors is available in a wide variety of styles and configurations. When it comes to home improvement, customizability is important. That's why we use our artistry to bring you the exact design you have in mind.
We know one size doesn't fit all when it comes to home needs or aesthetics. That's why our doors come in three materials:
Fiberglass

Fiberglass door options are great for people looking for doors that are highly resistant to weather damage. Fiberglass doors are long-lasting and can stand for years with little maintenance. Plus, fiberglass doors are sturdy and offer great protection They also offer homeowners the highest energy efficiency and are not prone to rust, denting or surface scratches. Today fiberglass can be installed with one of any variety of skins to give your home the look you want with the durability you need.  Whether you want a wood like finish or wish to paint or stain your fiberglass door, Acadian can help you achieve your dream home

Steel 

Steel doors offer homes an elegant look with enhanced protection with minimal care or maintenance required. Steel doors are weighty and offer advanced energy efficiency compared to other door materials at a very affordable rate. Your home will stand out in the best ways with a sturdy steel door installed by Acadian. Steel door installation is just one of the ways Acadian can help you i

ncrease your home's energy efficiency.

Wood

The feeling that wood brings to a home's finish is so distinguished, it's easy to understand why so many homeowners admire their visual appeal.  Wood doors are incredibly versatile and

can be painted

in virtually any color desired. Wooden doors can

fall prey

to some pretty devastating elements, but proper maintenance can help curb those. Call Acadian to get the best quality wooden doors to give your home the feel you desire while getting the most for your money. Acadian has the expertise necessary to help Metairie home owners maintain their wood doors.
We use a high-quality electrostatic paint that ensures each door is sealed with an even coat of stain that provides a rich, beautiful color tone. After that, we cure our doors so the color is locked in for years and years.
On top of that, we use nickel vapor deposition and high-tech compounds that seal our doors even further. With our methods, Acadian's doors resist cracking, warping, rot, peeling, and other wear and tear.
Selecting Your Metairie Entry Doors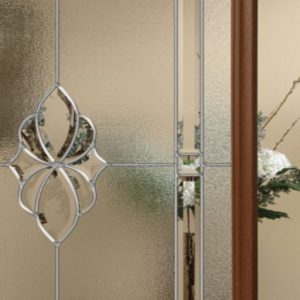 Entry doors are the focal point of your home's facade. You and your guests interact with them every time you enter your home, so we make sure each entry door we build is perfect.
We pride ourselves in striking a balance between aesthetic, durability, security, and energy-efficiency when crafting entry doors, and the quality speaks for itself.
When you purchase entry doors with Acadian, you have the choice between steel and fiberglass for your construction. After that, you can select a custom decorative glass pattern and, for fiberglass doors, a stain that enhances the door's beauty. Acadian's decorative glass is meticulously assembled by our expert craftsmen.
Our craftsmen can produce custom textures and waves and seeds that create a beautiful lighting effect inside your home. Acadian can also use colored glass in the centerpiece to create the perfect balance of natural and colored light.
Our entry doors are equipped with age-resistant frames that come in two varieties: composite frames with exterior brickmold and PVC vinyl-coated aluminum with exterior cladding. Both of our frame options resist the outdoor elements and create a durable seal that insulates your home, making it more energy-efficient
Emtek® and Schlage® supply Acadian's door hardware. We choose to work with them because they supply the most durable, reliable, and beautiful handles, locks, and knobs in the industry.
When to Get a New Door in Metairie
It can be difficult to decide when to get a new door, but it may be time to upgrade if you notice any of the following issues in your current home.
1. Space Between the Door and Frame
When the door is completely closed, you should not be able to see any light coming in around the frame or threshold. If you can see some light, it's not the only thing getting in—you could also be experiencing issues like water, bugs, or drafts. 
Having drafts in the home can show there are gaps in the framework, which may affect your overall comfort as well as your energy bill. This issue is common in older homes and doors, and it is a likely sign that you need to start thinking about replacements. 
2. Your Energy Bill Has Changed
Another way to tell if there is a draft is if your energy bill has gone up. Since the door may be a source of leaks, your systems will have to overcompensate to maintain a comfortable indoor temperature, and your energy bills will increase.
These changes to your energy bill can be especially noticeable during those hot Louisiana summers. If you're spending more on air conditioning than usual, you may want to find new doors Metairie households can rely on. If you have an older door, you can likely save money long term by getting a newer, energy-efficient door that better suits the high temperatures.
3. Your Door Is Damaged
Doors can deal with damage over their lifespans, especially due to the weather in Southern Louisiana. These issues vary in seriousness. For example, squeaky hinges can usually be dealt with using a little extra lubrication.
Some problems are more serious, like dents or rusting. If your door has become rusted, it's likely that moisture has made its way into the wood frame and is causing rot. Both dents and rust can make doors structurally unsound and compromise their safety.
Another common issue, specifically with solid wood doors, is splitting and peeling. Wood can expand and contract in heat or cold, so over the seasons a wood door may become cracked, warped, or weathered in other ways. This allows moisture to get in, which can cause termites.
4. Your Door Is Difficult to Open
If you struggle to get your door opened, it's likely the door is expanding and no longer able to fit in its frame properly. The opposite can also be true—if your door doesn't stay closed easily, it may be time to consider a replacement.
5. You Just Want a New Door
As we mentioned, front doors serve as a focal point for your home and are often the first thing many people notice when looking at a house. When a door is damaged or weathered, it may not only be structurally unsound, but it can also just be plain unattractive to you. 
Even if there are no major issues, you can choose to upgrade your door simply because you want something new. If you want to update your curb appeal, whether it's to sell your home or for your tastes, getting a new door is a quick and cost-effective way to add a new look without an extensive remodeling project.
Choosing Patio Doors Metairie Residents Trust
Here at Acadian, we also make patio doors Metairie residents love. That's because they're smooth, quiet, and durable enough to resist damage from inclement weather.
Our patio doors come standard with our custom multi-chamber technology. This is what gives them their durability and energy-efficient capabilities that insulate your home no matter what the weather is like outside.
Along with that, our patio doors feature our patented self-lubricating system, made with tandem wheels that ensure the doors open as smoothly and quietly as possible.
Here are the specs to our patio doors:
Rigid frames

Self-cleaning tracks

Anodized aluminum tracks built into the sill

Adjustable spring-loaded suspension systems

Steel reinforced panels
Acadian offers 2-panel, 3-panel, and 4-panel configurations to complement the size of your patio.
Metairie Storm Doors that Are Built to Last
Preparing for hurricane season? Acadian also makes trustworthy and reliable storm doors Metairie can count on. However, more durability doesn't mean less light and ventilation. Acadian's storm doors increase light, airflow, and security.
Acadian's Metairie storm doors come fortified with extruded aluminum frames and ultra-tough safety glass, much like the glass used in windshields, allowing them to stand up to high winds and debris.
Just like our other doors, our storm doors are customizable. You can choose different colors and styles that are baked into the frame, giving you a finish that lasts for years and years.
The Best Doors Metairie Has to Offer
At Acadian, we pair our high-quality products with unparalleled customer service. Our technicians receive hands-on training, and they know how intrusive some contractors can be. We do our best work every time, offering you the quickest and least intrusive service possible.
We're proud to have won several Super Service Awards from Angie's List, and our A+ Rating from the BBB is a badge of honor.
If you're ready to team up with Acadian Windows and Siding, contact us to discuss how we can bring you the best doors in Metairie.