Doors Zachary, Louisiana
Looking for doors Zachary families will love? Acadian Windows and Siding is the right place for you. As our name suggests, we're experts in house parts, and that includes a variety of premium doors that use the best materials. While shopping, you'll be greeted with customer service that you can't find anywhere else.
We know that there's a lot to consider when choosing a door. And when it comes to installation, it needs to be done perfectly. That's why we make the whole process easy for you. Using their years of experience, our sales team and installation team will be with you every step of the way to advise you on the best colors, style, and types of doors for your home. To find out why Acadian Windows has the best doors Zachary homeowners will love, read on! We hope to get started on your home upgrade today.
How Zachary Doors Are Made at Acadian
Zachary residents can choose from three main types of doors from Acadian Windows and Siding. These include entry doors, patio doors, and storm doors.
While each type of door serves a different purpose, we pride ourselves on the long-lasting, durability, and beauty of these doors, as well as our ability to match doors to your home's design and color scheme.
Acadian doors are made with the best materials available. Depending on the door, we use fiberglass, steel, or wood. We're particularly proud of our wood doors, which are double reinforced by a special process that cures them in the oven. By doing so, these doors are resistant to cracking, warping, and external damage. Rest assured, these doors last a lifetime.
Selecting Your Zachary Entry Doors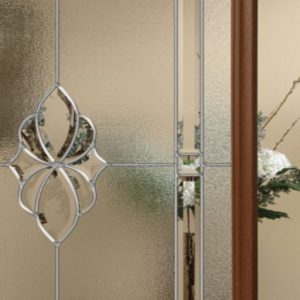 Entry doors are almost always the first thing that friends and neighbors see, so it's an element that is important to make an impression. But they also need to be durable to keep your home safe from unwanted guests.
For these important reasons, we prioritize beautifully designed doors that are functional and strong so that you can rest well at night. Acadian entry doors are built to last with either exterior brickmold and rot-resistant composite frame or a PVC vinyl coated aluminum frame. Emtek® and Schlage® hardware further enhances the security of our doors.
Each entry door is artistically crafted by talented and attentive craftsmen. They paint each wood door by hand and install the stained glass with precision and a soft touch. Although optional, the stained glass is one of the most stunning features of our doors. You can customize the glass based on your tastes by selecting from a variety of patterns and colors to make your home pop while bringing the other features of your home together.
Choosing Patio Doors Zachary Residents Trust
Whether you're entertaining company or just enjoying a summer evening out on the patio, it's important to have easy access to the indoors with a smooth, functional set of patio doors.
Other companies put their patio doors together to be shipped out as quickly as possible, which means the internal mechanisms break down easily and you're left with a rusty, broken door. Acadian patio doors are put together with great care to ensure it's a quality product. We use a multi-chamber design and weather stripping that allow our patio doors to hold up in harsh climates no matter what.
Plus, Acadian patio doors are built to be incredibly energy efficient, so you can know that the warm air will stay in during the winter and the cool air will stay in during the summer.
Zachary Storm Doors that Are Built to Last
As you know, the summer climate in Louisiana brings about rain and wind that can potentially do damage to your house, which is why storm doors are a must-have for all homes.
Acadian storm doors are made with extruded aluminum frame and tempered safety glass. For a sense of how strong this kind of glass is, it's the same glass used in car windshields.
As with all Acadian doors, these highly functional storm doors can be customized by choosing from a variety of colors and styles to match your home perfectly.
The Best Doors Zachary Has to Offer
Finding the best doors Zachary has to offer is made easy at Acadian Windows and Siding. From entry doors to patio doors to storm doors, all of our doors are made with the highest quality materials and installed by seasoned installation experts.
Our motivation as a business has always been seeing our customers' homes as our own, which is why we have consecutive Angie's List Super Service awards and an A+ Rating from the Better Business Bureau.
You deserve a home that is both beautiful and functional. Contact us today to learn more about the best doors Zachary has to offer.