Doors Westwego, Louisiana
Finding doors Westwego residents will love has never been easier. At Acadian Windows and Siding, we offer a premium selection of doors made from the best materials and installed by industry-leading experts.
We know that doors have to be both beautiful and functional, which is why we only use top of the line materials and innovative processes to deliver you the best doors in Westwego. Doors are one of the most important elements of your home. Whether you need a new entry door, an upgraded patio door, or a durable storm door, Acadian has the perfect option for you. Discover all of the customizations you can make at Acadian and find a door that is truly unique.
How Westwego Doors Are Made at Acadian
The three main types of doors Westwego residents can buy at Acadian are entry doors, patio doors, and storm doors.
As a local Louisiana company, we know the importance of quality and durability when it comes to making additions to your home. With harsh weather and frequent storms, it's critical that we only use the best materials for our doors.
All of our doors are made from premium fiberglass, steel, or wood materials that won't break down or rust over time. To protect our wood doors, they are baked and cured in the oven, creating a state of the art chemical process that allows them to resist cracking, warping, and damage.
Selecting Your Westwego Entry Doors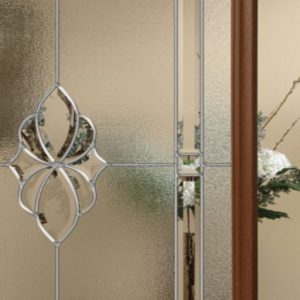 Entry doors are by far the most visible door of your home and they serve multiple purposes. Not only is an entry door the first impression that guests and neighbors may have about your home, but they are also the first line of defense against any break-ins or intruders.
Because of this, entry doors have to be unique, beautiful, durable, and strong. Our doors are built to last use either exterior brickmold and rot-resistant composite frame or a PVC vinyl coated aluminum frame. Emtek® and Schlage® hardware further enhances the security of our doors.
To add the artistic elements, Acadian works with true artists and craftsmen to enhance every inch of your entry door. All of the stains on our wood doors are painted by hand and the stained glass pieces are handpicked and placed by experts. Pick from a selection of styles and textures to really make your entry door stand out.
Choosing Patio Doors Westwego Residents Trust
Patio doors Westwego residents and neighbors will love are found at Acadian. All too often, patio doors break down, rust, and squeak over time, creating an unfortunate sound when you enter or exit.
Acadian has solved that problem with our state of the art patio doors. We use a multi-chamber design and weather stripping to provide a seamless and silent opening and closing mechanism. That way, you can enjoy a backyard barbecue or crawfish boil with friends and neighbors without the squeaks from your door.
All of our patio doors come in a variety of styles and configurations with multiple panels based on the width of your frame or the size of your patio.
Westwego Storm Doors that Are Built to Last
In South Louisiana, we know how harsh the climate can be. Between torrential rains, raging winds, and rising waters, the weather can really add a toll to your home. That's why you need a Westwego storm door that is built to last a lifetime and can withstand the elements no matter what.
Acadian's storm doors are built with an extruded aluminum frame and tempered safety glass. This glass is the same type of glass used in car windshields and impact windows which adds another layer of safety and security to the exterior of your home.
These storm doors are also extremely energy efficient, keeping warm air in during the winter and cool air in during the summer. All of our storm doors are customizable with different colors and styles to match your home.
The Best Doors Westwego Has to Offer
The best doors Westwego has to offer can be found at Acadian Windows. Not only do we provide high-end materials at competitive prices, but we also have unmatched customer service. We work with you from ideation to installation and use a team of experienced professionals who can work with any home.
Our philosophy is to treat every home as if it were our own. It's no wonder why we've won consecutive Angie's List Super Service awards and earned an A+ Rating from the Better Business Bureau. We put our customers first and never compromise on quality.
We truly care about you and the work we do. Contact us today to learn more about why we are the best Westwego door company out there.