Doors Vacherie, Louisiana
Looking for beautiful doors Vacherie residents can trust to last a lifetime? At Acadian Windows and Siding, we make the process of finding, purchasing, and installing new doors simple and easy. With a wide selection of styles, colors, and materials, we can create custom doors that match your home's look and feel.
Home renovations should not be a stressful process. Our experienced installation technicians can do all of the heavy lifting while you sit back and see your home transform. Whether you need a beautiful statement piece for the front of your house or something durable and functional for a side entrance, trust the team at Acadian to get the job done right the first time.
How Vacherie Doors Are Made at Acadian
The three main types of doors Vacherie residents can purchase at Acadian Windows and Siding are entry doors, patio doors, and storm doors.
Each type of door is made with both stylish and durable materials, so you can have something that is functional and eye-catching.
For example, our entry doors are made out of either fiberglass, steel, or wood, and can be customized to match your home's style and aesthetic. With our wood doors, we further reinforce them by curing them in the oven, a state of the art process that makes them resistant to cracking, warping, and damage.
Finding a door that works for your home means understanding your needs while being aware of the materials that your home already uses.
Selecting Your Vacherie Entry Doors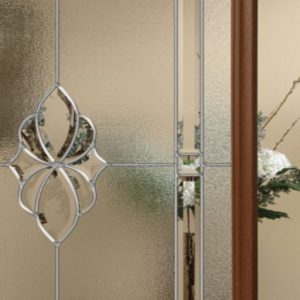 Entry doors are one of the most important elements of any home. Not only is the entry door one of the first things that people see as they come in your home, but they also serve as protection from any would-be intruders.
At Acadian Windows, we build entry doors that are functional, beautiful, and works of art. Our doors are built to last with either exterior brickmold and rot-resistant composite frame or a PVC vinyl coated aluminum frame. Emtek® and Schlage® hardware further enhances the security of our doors.
Because wood is so flexible as a material, our wood entry doors are truly artistic designs. All of the stains are created by hand, giving them a unique appearance. Even further still, our doors can be made with hand-crafted stained glass that come in a variety of colors and patterns to match your home.
Choosing Patio Doors Vacherie Residents Trust
If you need patio doors Vacherie neighbors will love, Acadian Windows has the inventory for you. Unlike traditional patio doors that age, rust, and squeak over time, our patio doors are specially designed to stay smooth and quiet so you can have a pleasant outdoor experience.
Our multi-chamber design and weather stripping means you'll have patio doors that withstand harsh weather conditions while maintaining their structural integrity and seamless sliding mechanism.
Whether you're looking for an upgrade or building a whole new patio, Acadian has the best materials, designs, and experts to make your dream a reality.
Vacherie Storm Doors that Are Built to Last
Storm doors are more than just a nice addition. In Louisiana, we know all too well how rough the weather can get. From extreme heat to raging winds to torrential rains, Vacherie residents have to remain vigilant at all times.
That's why at Acadian, we take so much pride in building storm doors with high-end materials and superior craftsmanship.
Our storm doors are created with an extruded aluminum frame and tempered safety glass, which is the same type of glass used in car windshields. This premium glass helps keep your property and your family safe during harsh conditions.
Storm doors are also extremely durable and energy efficient. They can help regulate temperature inside and save you money on your gas bill. Choose from several variations in paneling, colors, and styles to best match your home.
The Best Doors Vacherie Has to Offer
The best doors Vacherie has to offer can be found at Acadian Windows. We know that choosing a door is a big decision, which is why we're with you every step of the way. From ideation to installation, our team walks you through the process with ease.
Our philosophy is to treat every home as if it were our own. It's no wonder that we have won consecutive Angie's List Super Service Awards and have been granted an A+ Rating from the Better Business Bureau. Customer service is our number one priority and we always deliver the highest quality products.
Contact us today to learn more about the best doors Vacherie can offer you.