Doors Sorrento, Louisiana
Does your home in Sorrento need new exterior doors? Acadian Windows and Siding is south Louisiana's best choice for new doors and so much more. Our doors are made from quality materials and we provide all of our customers with unbeatable customer service.
Going through any home updating process can be difficult, but we make it an easy, exciting experience with our team of installation and style experts ready to help you. Acadian can advise you on styling and design choices and provide top-notch installation services, too. Learn more about how Acadian brings the best exterior door services to Sorrento residents.
How Sorrento Doors Are Made at Acadian
The three main types of doors Acadian Windows and Siding offers to Sorrento residents are entry doors, patio doors, and storm doors.
Though all three doors have separate functions, they are all made from our premium materials to maintain their beauty and function for a lifetime.
We choose to make our doors from either wood, fiberglass, or steel, depending on the type of door you choose. We have a process of curing our wood doors in the oven to make them resistant to cracks, warping, and external damages that other wood doors can be prone to.
Selecting Your Sorrento Entry Doors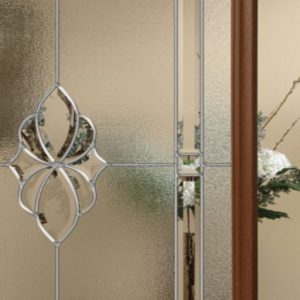 Entry doors must be stunning and protective, too: while an entry door is the first thing guests will notice about your home, they are a home's first defense against break-ins and intruders.
Acadian only makes entry doors that you can feel confident about — with either an exterior brickmold and rot-resistant composite frame or a PVC vinyl coated aluminum frame, your entry door will stay protected from all angles, and Emtek® and Schlage® hardware put the final touches on our doors' defense and looks.
Our wood doors are all stained by hand, while all stained glass pieces are designed by true craftspeople, which gives our doors a hand-crafted quality anyone can appreciate. We have a great variety of stain and glass options to help your doors look great with the rest of your home.
Choosing Patio Doors Sorrento Residents Trust
Patio doors, while not as prominent as entry doors, must be protective, easy to use, and long-lasting.
Poorly-made patio doors can quickly begin to rust and squeak with regular use. Our Acadian patio doors can hold up to everyday wear and tear and harsh weather conditions due to their weather stripping and double-chamber build.
The patio doors on your Sorrento home can be smooth and reliable with Acadian's help. Their design also makes them an energy efficient choice for your home, meaning that your doors will help keep warm air in during the winter and cool air in during the summer.
Sorrento Storm Doors that Are Built to Last
As a Louisiana-based company, we absolutely know the importance of protecting your home from any type of severe weather that comes your way. A truly effective storm door is essential for any home in our hurricane-prone region.
Storm doors from Acadian are reinforced with an extruded aluminum frame, as well as tempered safety glass. Tempered safety glass is the same kind found on most car windshields, so you can feel safe knowing that your storm door is built to stand against the elements.
Though these are highly functional doors, your Acadian storm doors can still be customized to match your home's look and color scheme. We offer our customers many color and style options to keep your doors design-friendly.
The Best Doors Sorrento Has to Offer
Sorrento residents can get started on their home updating journey with Acadian Windows and Siding. Our entry doors, patio doors, and storm doors make the most of the best materials in the industry, and our installation experts ensure that your doors will be installed efficiently and safely.
Acadian knows how to treat every client's home as if it were our own — it's how we have won numerous Angie's List Super Service awards and have maintained a steady A+ Rating from the Better Business Bureau.
Sorrento homes deserve beautiful, safe, high-quality doors that will last a lifetime. To learn more about our Sorrento home update services, contact us today.