Doors Port Allen, Louisiana
Your door is the centerpiece of your home's facade. If you're looking for a way to give your home a quick and easy upgrade, the front door is a great place to start. Acadian brings you with the best doors Port Allen has to offer because we provide beautiful doors that compliment your home's appearance while providing you with great insulation and security as well.
Acadian Windows and Siding is a one-stop-shop for home improvement all over the Gulf Coast. Continue reading to learn more about the styles, configurations, and different varieties of doors we supply, as well as why Acadian provides the best customer service in Port Allen.
How Port Allen Doors Are Made at Acadian
Our three main offerings here at Acadian are entry doors, storm doors, and patio doors. We make and install our doors, and each type of door can be customized to your liking. We have such a large variety of configurations because we have the craftsmanship to use our selection of high-quality materials to make each door unique.
Choose from one of the three materials:
After they're built, our doors receive an electrostatic paint that finishes the door with a perfectly even coat and unforgettable deep hues.
However, a door isn't much if it isn't beautiful and durable. State-of-the-art technology helps us ensure our doors last you for years and years. We fortify our doors with nickel vapor deposition technology and advanced compounds that resist dents, nicks, warps, and other wear-and-tear.
Selecting Your Port Allen Entry Doors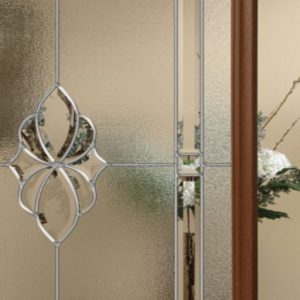 We build every door exactly to order here at Acadian. This allows you to select a door you love while providing you with the security and energy-efficiency that modern technology has to offer.
First, choose either fiberglass or steel. After that, you can add a stain to any fiberglass door to fully make it your own. Next, choose the glass. Acadian's glass is precisely cut, mitered, and soldered into place by our expert craftsmen who have years of experience in creating centerpieces that stand head and shoulders above the rest.
You can also choose textures, waves, seeds, and other color options. These features affect the way light passes through them, allowing you to fine-tune the natural light that enters your home.
Next, we offer a weather-resistant composite frame and a PVC vinyl-coated aluminum frame complete with exterior cladding. These frames insulate your home, which not only lowers your energy bill but also prevents rot and wear.
The hardware that we use at Acadian comes from Emtek® and Schlage®. This way, you know you're getting a reliable and attractive set of handles, knobs, and locks.
Choosing Patio Doors Port Allen Residents Trust
Acadian also offers patio doors. Our customers love them because they're quiet, secure, tough, and they look great too.
Our patio doors come with a multi-chamber design, meaning they're durable to rough weather and provide your home with insulation. Great insulation makes your home more comfortable and energy-efficient, saving you money each month when the bills roll around.
Acadian's patio doors come with our patented self-lubricating sliding rails. They have tandem wheels that operate smoothly and quietly throughout the course of their lifespan.
All of our patio doors have:
Rigid frames
Self-cleaning tracks
Anodized aluminum tracks built into the sill
Adjustable spring-loaded suspension systems
Steel reinforced panels
Acadian customers can also select 2-panel, 3-panel, and 4-panel options.
Port Allen Storm Doors that Are Built to Last
Lastly, Acadian offers storm doors Port Allen residents can rely on. To protect your home and safety, a strong and reliable set of storm doors makes all the difference. Our storm doors do just that while allowing the perfect amount of light in.
What makes Acadian's storm doors strong is the extruded aluminum frames and high-tech safety glass. Much like a windshield, they're laminated to withstand high winds and fast-flying debris.
Like all of our other offerings, our storm doors can be customized. Acadian offers a wide variety of colors and styles. On top of that, the finish is baked into the frame, meaning your storm doors keep their sheen no matter what nature throws at them.
The Best Doors Port Allen Has to Offer
Acadian offers the best customer service in the Gulf Coast. Our installation specialists are trained to work quickly, courteously, thoroughly, and efficiently to ensure your doors are installed in no time.
As a testament to our commitment, we're proud to announce that we've won several Super Service Awards from Angie's List and boast an A+ Rating from the BBB.
Ready to get a set of the best doors in Port Allen? Contact us today so we can discuss what you need and how we can make it happen.