Doors Ponchatoula, Louisiana
Are you looking for new doors that your Ponchatoula family can trust? At Acadian Windows and Siding, we can take care of your home's doors and much more. We use only high-end, premium materials, and our customer service is just as reliable as our products.
Getting new doors for your home can be stressful, but our expert crafters and installers can take the stress out of updating your home. We can guide you through every step of getting new doors — keep reading to see how Acadian goes above and beyond to make door updates effortless.
How Ponchatoula Doors Are Made at Acadian
Ponchatoula residents have three main types of doors to pick from at Acadian Windows and Siding: entry doors, patio doors, and storm doors.
Every door serves an important purpose for your home's look and safety. All Acadian doors are made with quality materials and craftsmanship to serve your home.
Our three door materials are steel, wood, and fiberglass, depending on the door's type and design. Our wood doors undergo an oven curing treatment that protects them from any external damages, cracking, or warping, to help your door last as long as your home.
Selecting Your Ponchatoula Entry Doors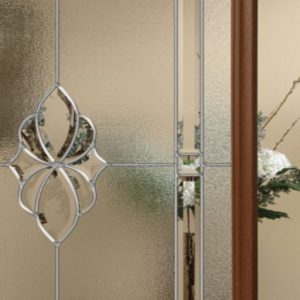 Entry doors are a key part of your home's design. Your family, neighbors, friends, and other guests will notice your front door as soon as they see your house, and your doors must defend your home against unwanted events like a break-in
Acadian doors combine the best parts of design and defense. Our doors can withstand time and circumstances with the protection of either a PVC vinyl coated aluminum frame or an exterior brickmold and rot-resistant composite frame. We also use both Schlage® and Emtek® hardware to ensure that every part of your door's construction is built to last.
Acadian's craftsmanship is also unmatched. Every wood door is hand-stained, and all glass elements are crafted by experts. You also have creative input on your entry door's looks — we offer many colors and design patterns to make your new door blend seamlessly with your home.
Choosing Patio Doors Ponchatoula Residents Trust
Though patio doors are not as customizable as your entry door, these doors must be simple and durable through  everyday use.
Often, patio doors are not made to last. The door's weak interior will cause rusting and squeaking with every use. That's why our patio doors are designed smarter — our patio doors can withstand the outside elements with their multi-chamber design and weather stripping elements.
You can trust your Ponchatoula patio doors to work silently throughout the many years your household will use them. Not only will they be clean and simple to use, but they will also be an energy efficient addition to your home — our patio doors can keep the heat out of your home through the summer and keep the cool air out during the winter.
Ponchatoula Storm Doors that Are Built to Last
As a Gulf Coast company, we know our customers need to trust their doors to withstand severe weather. All homes in Ponchatoula need doors that can handle the high winds and heavy rainfall that come through our region.
Tempered safety glass and extruded aluminum frames are what keep Acadian's storm doors so strong. The tempered safety glass we use is the same kind that is used on car windshields, so you can know that your storm doors are built with the weather in mind.
Like our patio and entry doors, you do have options for the look and feel of your new storm doors. You have multiple color and style options to pick from, so your storm doors won't have to stand out from the rest of your home.
The Best Doors Ponchatoula Has to Offer
Acadian is dedicated to getting Ponchatoula the best doors and customer service around. All our doors are made with homeowners in mind, and our professional staff will give you unbeatable customer service through every step.
The Better Business Bureau's A+ rating and our multiple Angie's List Super service awards say it all — Acadian treats every home we service as if it were the home we live inour home. That's how we deliver the quality and service you deserve.
If you want to get started on your journey to a beautiful and protected home, contact us today and talk with our staff about what doors Ponchatoula needs right now.