Doors Plaquemine, Louisiana
The most unique doors Plaquemine residents enjoy adding to their homes come from none other than Acadian Windows and Siding. Home renovations have never been easier with high-quality doors from Acadian. We offer doors Plaquemine homeowners choose for every project they have up their sleeves. From home entertainment to curb appeal, we have a door for every need.
Our doors are set apart with our advanced technology and industry professionals that hold years of knowledge and techniques that show loudly in your new door. With our renowned customer service, you'll never even notice we're there, leaving you undisturbed in your home.
No matter if you need a new entry door, storm protection, or a new patio door, Acadian Windows and Siding has the perfect solution for you!
How Plaquemine Doors Are Made at Acadian
At Acadian, you can customize every inch of the exterior of your home with our three different types of available doors.
Our selection of doors includes these three main types of doors: entry doors, patio doors, and storm doors. Acadian's doors are made of wood, fiberglass, and steel to give your home the look you desire.
We have the most durable wood doors Plaquemine homeowners trust at Acadian. In addition, our fiberglass doors will never weather and flake because all of our door stains are integrated with our advanced vapor deposition technology that acts as a protective barrier to keep your door looking fresh through every weather condition.
Choosing your wood door is made simple with the help of our expert craftsmen. Your home will be accentuated with a new door chosen and designed by the quality team at Acadian.
Selecting Your Plaquemine Entry Doors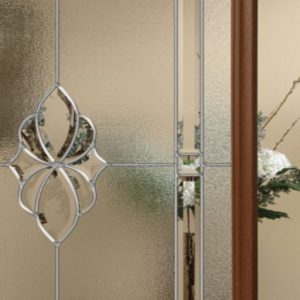 Are you looking for entry doors that will liven up your home's front entrance? Look no further than Acadian Windows. Our extensive collection of entry doors allows you to choose the style and color of your new entry door to give your home a facelift.
Entry doors at Acadian come in either steel or fiberglass, but you have the option to add a pop of color or an elegant  stain for fiberglass doors on top of your door's foundation.
You can even make a statement with your entry door when you choose to add decorative glass designs from our INSPIRATIONS™ Art Glass collection handmade by our experienced creative artists.
Entry doors at Acadian can last a lifetime when you add our rot-resistant composite and exterior brickmold with a PVC vinyl coated aluminum frame. We offer a wide range of Emtek® and Schlage® hardware to accentuate the features of your new entry door.
Choosing Patio Doors Plaquemine Residents Trust
Patio doors Plaquemine residents trust to withstand high volumes of usage are found at Acadian Windows and Siding. Our patio door selection includes 2-panel, 3-panel, and 4-panel configurations.
At Acadian, our patio doors come equipped with our state-of-the-art self-lubricating sliding system that warrants long-term sustainability throughout even your largest backyard gatherings.
Our versatile patio doors include the following features, too:
Self-cleaning track system
Anodized aluminum track built into the sill
Adjustable spring-loaded suspension system
Plaquemine Storm Doors that Are Built to Last
From June to November, Plaquemine residents remain prepared for the imminent tropical storm weather Louisiana is prone to. Take your storm protection techniques to the next level with storm doors from Acadian.
Our storm doors at Acadian provide your family the comfort of knowing they can stay safe and secure throughout any weather condition that brews in from the Gulf. We've developed a heavy-duty design for our storm doors with our extruded aluminum framing and tempered glass.
We don't sacrifice style for protection at Acadian. Our storm doors are just as modern and customizable as our other doors. You can add a bold color to your storm door or choose one of our many design options, as well. Regardless, your storm door's style is made to last with our oven curation upon paint application.
Acadian's storm doors allow your home to become more energy efficient, regulating the temperature in your home with our robust tempered glass. Reduce your carbon footprint and protect your loved ones when you get your storm doors from Acadian Windows and Siding.
The Best Doors Plaquemine Has to Offer
Are you ready to get the doors Plaquemine residents choose time and time again for their homes? Our team at Acadian will be waiting to professionally serve you with attentive care and expert industry advice. Don't know where to start? Don't worry, we'll help make your dream come to life with new doors at Acadian Windows and Siding.
If you're ready to renovate your home with new high-quality doors, contact us today!