Doors Pascagoula, Mississippi
Looking for doors Pascagoula homeowners will love? At Acadian Windows and Siding, we offer you doors, windows, siding and more to make your home stand out from the rest. Our products paired with our outstanding customer service will make your next home update a breeze.
Finding the right doors for your house is sometimes tricky. Acadian is dedicated to making this process easy through our installation and technical experts. From door selection and styling to installation and maintenance, we stay by your side to get you doors that you'll love. Read more to discover why Acadian Windows and Siding is Pascagoula's top choice for new doors.
How Pascagoula Doors Are Made at Acadian
Pascagoula has three exterior door types that Acadian Windows and Siding can help you choose from. These types are entry doors, storm doors, and patio doors.
While every type of door serves a unique purpose, all of our doors are made with only top-quality materials that will keep your doors durable and attractive for many years.
Depending on which door type you select, we offer three main materials for your door's construction: steel, wood, or fiberglass. Acadian uses an oven curing process that reinforces the protective barriers on our wood doors. This keeps our wood doors safe from the warping, cracking, and external damages that wood doors commonly face.
Selecting Your Pascagoula Entry Doors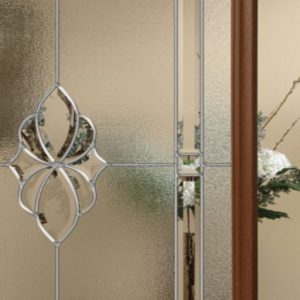 An entry door is the first impression others get from your home. Beyond its outer beauty, your entry door also needs to be strong against potential intruders and break-ins
Thankfully, Acadian specializes in combining beauty and function in every entry door we create. Our doors can create a lasting impression upon guests while also allowing you peace of mind. Our entry doors retain their high quality for many years through PVC vinyl coated aluminum frames or exterior brickmold and rot-resistant frames. The Schlage® and Emtek® hardware we use also keeps your door strong from top to bottom.
Every entry door from Acadian comes with craftsman details you're sure to love. All stains are hand-applied to our wood doors, while every stained glass element is hand-crafted. You also have a variety of patterns and colors to choose from, so your entry door can match your whole home.
Choosing Patio Doors Pascagoula Residents Trust
It's important to know that you have functional, reliable patio doors that you can trust to protect your home day and night.
Many patio doors offered by other companies are poorly made, with weak internal elements that are prone to damage over time. Acadian can give you doors made with a multi-chamber structure and weather stripping. These keep your doors looking and operating like new through the years.
Your Pascagoula doors will be built to last, remaining smooth and quiet even through constant use. We also make our patio doors energy efficient, which regulates your home's temperature.
Pascagoula Storm Doors that Are Built to Last
Living in Pascagoula, you know that having doors that can withstand tough weather conditions is key. As a southern company, we know you need doors that can handle  severe rainstorms and hurricane season. A strong storm door is what you need to ensure that your Pascagoula home is protected from any kind of weather.
Acadian's storm doors are made from both tempered safety glass (the same glass used for car windshields) and aluminum frames to provide the strongest protection possible.
Besides their practicality, you also have options to make your new storm doors look great on your home. A variety of styles and colors can make your storm doors match your home's current look.
The Best Doors Pascagoula Has to Offer
Have you been looking for the best doors available to you in Pascagoula, Mississippi? Look no further than Acadian Windows and Siding. We only offer the best in entry, patio and storm doors for our customers. Our experienced team of home professionals can ensure that your doors will be beautiful and secure while offering you outstanding customer service.
We know that your home is the most important place in your life, so we treat every home we work on like our own. That's how we've earned our A+ rating from the Better Business Bureau and many Angie's List Super Service awards.
Pascagoula, you deserve the best in comfort and functionality from your doors. Contact us today to see how Acadian can get you the doors you deserve.