Doors New Orleans, Louisiana
When it comes to doors New Orleans residents know and love, nobody does it better than Acadian Windows and Siding. First impressions mean everything for a home. Whether you're showing off your front door, entertaining guests on the patio, or just walking around your house, a beautiful well-made door can really stand out. 
At Acadian, we specialize in more than just windows. We serve all parts of your home and guarantee that our selection of doors combined with our superior customer service will leave your home with a brand new look.
How New Orleans Doors Are Made at Acadian
Acadian builds and installs three main door types: entry doors, patio doors, and storm doors. With each type of door, there are endless possibilities when it comes to style and configuration. That's because we use a combination of materials, artistry, and available inventory to create something truly unique. 
Our doors are made from:
With our doors, stains are applied by hand and then cured in the oven to make sure they are both durable and beautiful. In fact, we use state-of-the-art electrostatic paint to ensure an even coat. 
Every Acadian door is infused with art and technology to enhance their style and strength. The authentic wood look is created with nickel vapor deposition technology, and scientifically formulated compounds allow the doors to stand up to denting, splitting, cracking, and warping. 
Selecting Your New Orleans Entry Doors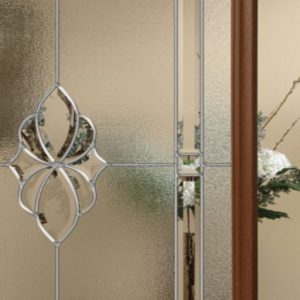 Entry doors are by far the most visible and attract the most attention. You and your neighbors will see your entry door every day, so it has to be perfect. 
Our entry doors are custom-built for your home and are crafted with beauty, security, and even energy-efficiency in mind. 
Entry doors are available in both fiberglass and steel and customers can combine wood stains and decorative glass to really make them stand out. Our skilled craftsmen use decorative glass by precisely cutting, mitering and soldering each component into artistically designed patterns.
Each piece of art glass uses textural waves and random seeds to create interesting ways light flows into your hallways. Make a unique statement with accent colors and a wide range of designs. 
Our entry doors systems are available with rot-resistant composite frame and exterior brickmold or they are available with PVC vinyl coated aluminum frame cladding for the exterior.  
We offer hardware from Emtek® and Schlage® that provides some of the most stylish, durable hardware available today.
Choosing Patio Doors New Orleans Residents Trust
Acadian's patio doors are beloved by customers and regarded as the quietest, smoothest patio doors on the market. The most important things about patio doors are functionality, durability, and security. 
With our custom multi-chamber design, our patio doors stand up to the toughest weather and actually increase your home's energy efficiency.
In fact, we also have a patented self-lubricating sliding system that features tandem wheels to create a smooth and quiet open and close. 
This patio door features:
Rigid frame

Self-cleaning tracks

Anodized aluminum track built into sill

Adjustable spring-loaded suspension system

Steel reinforced panels
Our patio doors are available in 2-panel, 3-panel, and 4-panel configurations.
New Orleans Storm Doors that Are Built to Last
If there's one thing we know in south Louisiana, it's storms. Our New Orleans storm doors are the strongest on the market. Whether you're looking for more light, increased ventilation, or protection from the harsh weather, Acadian's storm doors are the perfect option for you. 
Our storm doors are equipped with an extruded aluminum frame and tempered safety glass, similar to the glass found in car windshields. 
This additional strength can ensure that you rest easy at night without worrying about heavy winds or debris. 
All of our storm doors come in different styles and colors. In fact, after they are painted, the door is oven-baked to give it a lifetime finish warranty. 
The Best Doors New Orleans Has to Offer
Looking for a New Orleans door company that won't let you down? At Acadian Windows and Siding, we treat every home as if it were our own, so you know you're getting the service you deserve. 
Don't just take our word for it. Acadian has won consecutive Super Service Awards from Angie's List and has an A+ Rating from the Better Business Bureau. 
We know that your home is an extension of yourself and your personality, so we make sure that everything is done right the first time. Contact Acadian today and find out why we have the best doors in New Orleans.