Doors Morganza, Louisiana
Looking for doors Morganza families will love? At Acadian Windows and Siding, we offer high-quality doors along with a variety of home renovation needs. Our premium doors come in different styles and designs, but all of them are made from quality materials.
Finding, selecting, and installing a door isn't always easy. That's why we have a carefully selected team of professional installation technicians that is both knowledgeable and customer-service oriented. Based on your needs and preferences, our professionals will suggest the best color, style, and type of door for you. And you'll know why Acadian Windows is the best Morganza doors company around to get started on your home upgrade today.
How Morganza Doors Are Made at Acadian
The three main types of doors Morganza residents can purchase at Acadian are entry doors, patio doors, and storm doors.
Though each type of door is different and serves a different purpose, all Acadian doors are made with durable, long lasting, and beautiful materials to match your home's look and feel for the long-run.
Regardless of the door type and design, our doors are built to last. We use steel and fiberglass to ensure your home is protected with a sleek look. Our wood doors are double reinforced by a special process that cures them in the oven. This process makes them resistant to cracking, warping, and external damage so you know your door will last a lifetime.
Selecting Your Morganza Entry Doors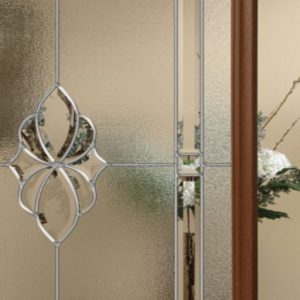 All of us want to make a good first impression on our guests, neighbors, and friends. That's what makes the entry doors one of the most important aspects of our homes. But while appearances are nice, it's also important that the entry doors serve as a barrier against intruders.
That's why we put design and functionality on the same playing field.
Each aspect of our entry doors are developed by true artists who take pride in their handmade work. From stain-painting our wood doors to placing the stained glass, these doors are designed with care and attention. And because we want you to have the best door to suit your personal preferences, you have the option of customizing the stained glass by selecting from a wide array of colors and patterns to match your home.
Rest assured that the entry doors you have selected as a perfect addition to your home are built to last. These doors are made with either exterior brickmold and rot-resistant composite frame or a PVC vinyl coated aluminum frame. Emtek® and Schlage® hardware further enhances the security of our doors.
Choosing Patio Doors Morganza Residents Trust
Just as our entry doors are beautifully made, our patio doors are made to be functional, easy to use, and built with quality materials and design.
It's important that the appearance of a patio door isn't the priority. What you really need is a door with a well-made interior. At Acadian, we use a multi-chamber design and weather stripping which allows our patio doors to hold up in harsh climates no matter what.
By keeping the rain out, your Morganza patio doors avoid getting rusty, and remain silent and smooth every time you open and close them. Our patio doors are also extremely energy efficient. In the winter, you'll stay warm. In the summer, you'll stay cool.
Morganza Storm Doors that Are Built to Last
It's safe to say that a Louisiana torrential downpour can be a dangerous event. With winds ramping up to damaging speeds and whipping around debris, the extra barrier that storm doors provide make these doors essential for your home.
At Acadian, our storm doors are made with extruded aluminum frames and tempered safety glass. To have a sense of how strong this glass is, it's the same type of glass used in car windshields, so you know how seriously Acadian takes your safety.
Like all of our doors, functionality and design are equally important. These storm doors are customizable, so you can choose from a variety of colors and styles to match your home's overall look.
The Best Doors Morganza Has to Offer
To find the best doors Morganza has to offer, look no further than Acadian Windows and Siding. Our entry doors, patio doors, and storm doors are made from the best materials available. This quality is matched with installation experts with years of experience offering top of the line service to our customers' satisfaction.
From day one we have treated every home as if it were our own. It's no wonder why we have consecutive Angie's List Super Service awards and an A+ Rating from the Better Business Bureau.
You deserve a home that is both beautiful and functional. Our doors offer both and more. Contact us today to learn more about the best doors Morganza can offer you.