Doors Laplace, Louisiana
Apart from your front yard, windows, and outdoor decorations, your front door is one of the key features of your home's facade. It's a critical part of your home's overall appearance, and it serves as the first impression for yourself and your guests when you approach it. The front door is also one of the largest openings to your home, meaning it's important to make sure it's secure and well-insulated. When it comes to doors Laplace residents can count on to keep their homes insulated, safe, and beautiful, Acadian Windows and Siding is the right choice.
Acadian offers much more than front doors – we also supply patio doors, storm doors, and many other home improvement solutions. Continue reading to find out why Acadian's doors are the best doors Laplace residents can buy.
How Laplace Doors Are Made at Acadian
We offer three types of doors here at Acadian: Entry doors, storm doors, and patio doors. Each door configuration is made to order, and you can choose from a wide array of styles. We combine a laundry list of variations with a cache of high-quality materials to craft a unique piece for each client.
You can choose one of the three materials:
At Acadian, we use electrostatic paint that ensures each door receives an even coat. The result is a hand-stained finish with rich hues. After the doors are stained, they're cured to lock in the color and make the finish durable.
After staining and curing, we use nickel vapor deposition paired with state-of-the-art compounds to further strengthen our doors. After it's all said and done, our doors resist warping, denting, and other wear-and-tear and damage.
Selecting Your Laplace Entry Doors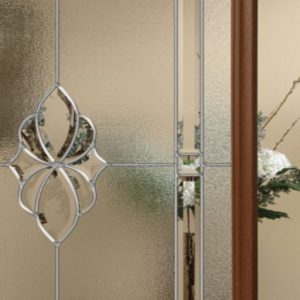 Entry doors are your home's focal point. They're the first thing that you and your guests see and touch when entering your home.
That's why Acadian custom-builds your entry door to your exact requests. After we're done, your new entry door fits your home's style while bringing you insulation and home security.
First, you can choose between fiberglass or steel. Next, you can choose a stain for fiberglass doors and a custom glass centerpiece to make it your own. Our in-house craftsmen create decorative glass with precise cutting, mitering, and soldering techniques, meaning your left with a decorative door that makes a statement.
When crafting your decorative glass, you can choose from a selection of textures, waves, and seeds. These look great from the outside and filter the light that comes in, creating a beautiful effect on the interior of your home.
Additionally, we supply weather-resistant composite frames with exterior brick mold and a PVC vinyl-coated aluminum frame with exterior cladding. Both frame options create a tight seal, which makes your home energy-efficient and secure.
Lastly, you can choose hardware supplied by Emtek® and Schlage®, two companies known for beautiful and durable handles, locks, and knobs.
Choosing Patio Doors Laplace Residents Trust
Acadian also makes great patio doors. Our patio doors are the quietest and most resilient patio doors Laplace has to offer.
Our patio doors stand out because they include a multi-chamber design. This means they stand up to inclement weather and keep your home's internal temperature comfortable while reducing your energy bill.
Acadian's patented self-lubricating sliding rails make our patio doors super quiet. Its tandem wheels make the system smooth for years and years to come.
Our patio doors come with:
Rigid frames
Self-cleaning tracks
Anodized aluminum tracks built into the sill
Adjustable spring loaded suspension systems
Steel reinforced panels
Our patio doors come in 2-panel, 3-panel, and 4-panel configurations.
Laplace Storm Doors that Are Built to Last
In Southern Louisiana, hurricane season is a major concern. That's why Acadian supplies storm doors that Laplace residents can trust.
Our storm doors come with extruded aluminum frames and high-durability safety glass. Just like a windshield, they won't shatter when impacted with high winds and flying debris.
But just because they're strong doesn't mean they're ugly. Our storm doors are totally customizable, and you can select your favorite color and style.
The Best Doors Laplace Has to Offer
As you can see Acadian has a lot to offer in the way of doors. We don't skimp on customer service either! Our installation technicians are trained to make quick work of your new doors, providing unintrusive, personal, and fast service. Apart from your new doors, you'll forget we were even there!
We're won multiple Super Service Awards from Angie's List, and we boast A+ Rating from the BBB.
Ready to get the best doors Laplace has to offer? Contact us today to find out how we can provide you with the most beautiful doors in Laplace.