Doors Lafitte, Louisiana
Have you been looking for doors for your home in Lafitte? You won't have to look any further than Acadian Windows and Siding. Our unmatched customer service, great selection, and expert advice will make your home both beautiful and secure.
It shouldn't be hard to find the right doors for your home. With our team of installation technicians and stylists, Acadian Windows will be with you every step of the way to make this process easy and enjoyable. Learn more about how we can craft and install new Lafitte doors that you can trust.
How Lafitte Doors Are Made at Acadian
The three main types of doors Lafitte homeowners can choose from at Acadian are entry doors, patio doors, and storm doors.
Though each type of door has its own important purpose for your home, all of them are made with the quality and durability that you can expect from our team of craftsmen and home update experts.
Acadian's doors are all made from  fiberglass, steel, or wood — the material will be picked based on the typoe of door you choose, as well as its design. For extra reinforcement, all of our wood doors go through a process where they are cured in the oven. This process will keep your doors safe from cracking, warping, and other external damages that wood doors often face.
Selecting Your Lafitte Entry Doors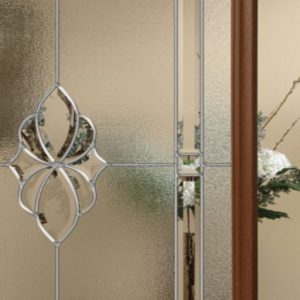 Because they must make a great first impression upon your guests and also protect your home from potential intruders, entry doors serve many important purposes for you and your home.
Acadian can deliver on both beauty and safety with our expertly-crafted entry doors, allowing you to rest easier at night. An exterior brickmold and rot-resistant composite frame or a PVC vinyl coated aluminum frame will ensure that your entry door will remain durable for many years of use. We also ensure the safety of our doors by using both Emtek® and Schlage® hardware.
Every Acadian door is treated with artistic integrity and care — all of our wood doors are stained by-hand and all additional glass elements are placed by true craftspeople. And our wide selection of glass patterns and colors means you can customize the entire look and feel of your new door.
Choosing Patio Doors Lafitte Residents Trust
While patio doors do not need to be as detailed as entry doors, you still want these doors to be reliable, smooth, and built to last for many years to come.
Other patio doors easily  from the inside, causing persistent rusting and loud squeaking each time the door is used.  Acadian's multi-chamber patio door design ensures that your patio doors will be structurally sound and able to withstand harsh climates.
Your Lafitte patio doors can be smooth, quiet, and reliable when you trust Acadian Windows with your home. Your new patio doors from Acadian will also be energy efficient, keeping you home warm in the winter and cool in the summer.
Lafitte Storm Doors that Are Built to Last
In Louisiana, storm doors are key to your home's safety and integrity. Acadian understands how unpredictable the weather can be here — to keep your home safe during hurricane season and beyond, a durable storm door is what your Lafitte home needs.
Acadian only makes storm doors with tempered safety glass and extruded aluminum frames. Tempered glass is what car windshields are made of, meaning that your storm doors will be able to withstand strong winds and persistent rain.
If you're worried that a storm door won't match your home's appearance, don't worry — Acadian can ensure that your storm doors will look beautiful with our wide selection of colors and styles.
The Best Doors Lafitte Has to Offer
Acadian Windows and Siding can make sure that Lafitte residents will get their doors done right. Our entry doors, storm doors, and patio doors are only made with the most quality materials in the business. Our staff of dedicated installation and styling experts always deliver the customer service you deserve.
Every home that Acadian serves is treated as if it's our own home. That's how we've earned the trust of our customers along with multiple Angie's List Super Service awards and a Better Business Bureau A+ rating.
Your Lafitte doors should be both secure and beautiful. Contact us today to talk to us about how we can help you get the doors your home needs.