Doors Lacombe, Louisiana
Looking for doors Lacombe residents love and trust? Acadian Windows and Siding has the industry's best doors available to suit a wide range of purposes. With the integration of high-grade materials and unparalleled customer service, Acadian will make your home renovations a breeze.
By shopping at Acadian, you'll never have to choose from a universal collection of doors again. Our collection of doors can be customized to fit your home's style and unique features. Acadian's team of skilled technicians will help you from design to finish to ensure the quality of your new door. Whether your home needs an upgraded curb appeal, a soundless backyard entrance, or weather protection, Acadian is your one-stop-shop for all of your door needs.
Explore why Acadian Windows and Siding is the best Lacombe doors company and step into your new door today.
How Lacombe Doors Are Made at Acadian
At Acadian, we offer three main types of doors Lacombe homeowners can't wait to add to their homes. The different types include entry doors, patio doors, and storm doors.
Our doors are made from fiberglass, steel, and wood depending on your door type and design. Unlike many other wood doors in Louisiana, Acadian's wood doors are cured in the oven after the stain is applied to reinforce the protection from cracking, warping, and external damage to keep your wood looking fresh 365 days a year.
While each type of door serves a different purpose and possesses a different style, you can make a style of your own that will last a lifetime. We make it simple for you to match your home's aesthetic and characteristics with the industry's most renowned and durable materials.
Selecting Your Lacombe Entry Doors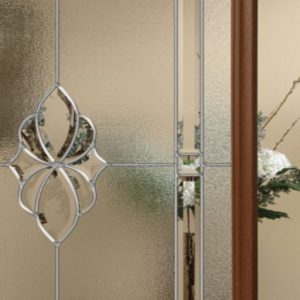 Entry doors provide more than just curb appeal and a good first impression for homeowners. They also act as a protective barrier from intruders. Our entry doors at Acadian are the most stylish and sturdy entry doors on the block.
Acadian's entry doors keep Lacombe residents happy and safe as our expert-designed doors stand the test of time with fiberglass and steel foundations. Take your home's design to the next level with our wood doors that are hand-painted to perfection. Add a creative touch to your new entry door with decorative stained glass options that are available in various styles and colors.
With either our exterior brickmold and rot-resistant composite frame or PVC vinyl coated aluminum frame, your entry door is made to last at Acadian. Enhance your home's protection performance further with available Emtek® and Schlage® hardware.
Choosing Patio Doors Lacombe Residents Trust
Patio doors don't get as much attention as entry doors, but they tend to get unwanted attention when they start to make noises that WD-40 can't fix.
Acadian's patio doors are built to support high volumes of function and they're easy for the whole family to use. This is made possible with our multi-chamber design and self-lubricating track system. With these two innovative concepts, your patio door can maintain its functionality and remain free of rust through every type of weather.
Our Lacombe patio doors remain quiet with every maneuver, no matter how many times the kids go in and out. At Acadian, our patio doors make your home more energy efficient, regulating the temperature throughout every season.
Lacombe Storm Doors that Are Built to Last
Storm doors are an extremely beneficial investment for your home, especially for Lacombe residents. Louisiana's weather is unlike any other: harsh and unpredictable. From torrential rains to raging winds, an effective and trustworthy storm door is essential for any home.
Our storm doors at Acadian are made with extruded aluminum frame and tempered safety glass. This glass offers you an added level of safety and security along with energy efficient components such as temperature regulation.
Much like our entry doors, our storm doors can be customized to align with the style of your home, as well. Each storm door comes in a variety of colors and styles so they can seamlessly blend into your home's overall color scheme.
The Best Doors Lacombe Has to Offer
Finding the best doors Lacombe has to offer starts at Acadian Windows and Siding. We strive to provide high-quality entry doors, patio doors, and storm doors by using the best materials available and having a skillful team of installation experts that have a sound background in providing exemplary customer service.
Take your home's functionality and design to the next level. Contact us today to learn more about the best doors Lacombe can offer you.