Doors Kenner, Louisiana
If you're looking for a company that offers doors Kenner residents can trust, Acadian Windows and Siding is the partner for you. Every owner wants their home to have a unique curb appeal. Acadian can help your home stand out amongst the neighborhood with a wide selection of doors, designs, and functions. 
With our team of experts, Acadian crafts windows and more. Our diverse set of services cater to every part of your home. Kenner residents love our door collection and appreciate our helpful customer service even more. We can assure that you will enjoy your new door for your home.
How Kenner Doors Are Made at Acadian
At Acadian, we manufacture and install three types of doors: entry doors, patio doors, and storm doors. Each type of door comes with a multitude of options for style and structure. These options are supported by our quality materials, creativity, and extensive inventory to construct your own exclusive vision. 
Our doors are produced from:
We handle your doors with care when you decide to stain your door. All of our stains are applied by hand before they are cured in the oven to ensure a lasting style for your home. In order to apply an even coat to your door, we use only the most advanced level electrostatic paint. 
Art and industrial technology permeate through every Acadian door to maintain their design and tenacity. Our authentic wood appearance is made with carefully developed composites and nickel vapor deposition science that enables our doors to withstand deterioration.
Selecting Your Kenner Entry Doors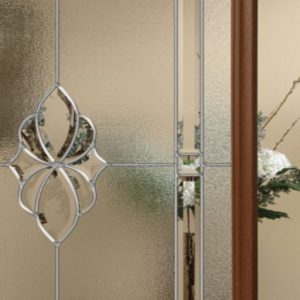 Entry doors are the main players when it comes to your home's curb appeal. They draw the initial attention from you and your neighbors, leaving a lasting impression. 
Acadian's entry doors are personalized for your home and are designed to influence your home's security, appearance, and insulation. 
Our entry doors come in both fiberglass and steel. Many customers incorporate stains for fiberglass doors and embellishing glass to further customize their entry doors. At Acadian, our highly-trained specialists expertly cut, miter and solder each segment to form extraordinary and innovative glass arrangements. 
With consistent flows and sporadic gas bubbles, Acadian craftsmen can make each piece of glass emit light differently throughout your home. The addition of accent colors and our unparalleled patterns can allow your home to exude a personality of its own.
Extend the quality of your entry door with our available systems. You can choose between our rot-resistant compound frame and exterior brickmold or our exterior PVC vinyl coated aluminum frame finish.  
Schlage® and Emtek® hardware are available at Acadian for you to enhance the style and durability of your entry door even further.
Choosing Patio Doors Kenner Residents Trust
Patio doors by Acadian are regarded as both extremely quiet and surprisingly smooth by our customers. All patio doors should be properly functional, reliable, and secure. 
Our specially made multi-chamber model ensures that your patio doors will combat harsh weather while preserving energy. 
Acadian's patio doors are patented with a self-lubricating sliding system that integrates cycle wheels to open and close softly and easily. 
This patio door highlights:
Solid frame

Self-cleaning tracks

Anodized aluminum track built into ridge

Adjustable spring-loaded suspension system

Steel reinforced panels
We have patio doors available in 2-panel, 3-panel, and 4-panel configurations.
Kenner Storm Doors that Are Built to Last
Acadian knows and understands the importance of storm protection in south Louisiana, which is why our Kenner storm doors are the most dependable on the market. If you're wanting more radiance, ventilation, or security from severe weather, Acadian's storm doors have you covered. 
Each of our storm doors has a sturdy aluminum frame encompassing tempered safe glass like the glass in vehicle windshields. 
Our integration of this extra-strength glass technology will keep you and your family safe from brutal winds and potential debris. 
Acadian's storm doors come in many different hues and styles. Like the entry doors, our storm doors are baked in the oven after they are painted to guarantee a lasting finish. 
The Best Doors Kenner Has to Offer
Do you want to revamp your home with a quality, reliable Kenner door company? Nobody serves you better than Acadian Windows and Siding. 
With an A+ Rating from the Better Business Bureau, you're guaranteed to receive notable service from our trained professionals. Our craftsmen and technicians understand the value of your home and provide impeccable service the first time.
If you're ready to see why Acadian is your Kenner door company, contact us today.