Doors Gulfport, Mississippi
A great way to upgrade your home is by purchasing doors Gulfport residents trust. For one thing, a beautiful set of doors compliments your home's beauty. Secondly, new doors also include new technology, meaning your home becomes more energy-efficient. Thirdly, new doors stand up to bad weather, impacts, and forced entry, making your home secure. With that in mind, Acadian makes the best doors Gulfport residents can buy.
Acadian Windows and Siding specializes in home improvement. This article explores the doors we offer and how they instantly improve your home life. Read on to learn more about the best doors in Gulfport, Mississippi.
How Gulport Doors Are Made at Acadian
We sell three main doors: the main entry door, the patio door, and the storm door. All of our door offerings feature the latest technology, and each one is customizable to meet your exact needs. This comes from a cache of high-quality materials and expert craftsmanship.
These are the materials we use in our doors:
After you select your material, we stain your door and apply electrostatic paint. Thanks to this process, your door receives an even coating of beautiful color that lasts a lifetime.
After that, we seal the door again to make sure it resists swelling, warping, denting, and other damage from aging and humidity. Each of our doors receives nickel vapor deposition paired with engineered compounds to achieve this end.
Selecting Your Gulfport Entry Doors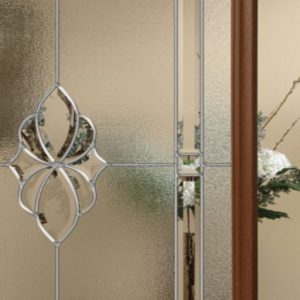 As you might imagine, our entry doors are one of our most popular options. That's because they pair unparalleled beauty with modern features that create a tight seal from the outside elements.
Acadian's doors look great because our customers customize them from the ground up. From the finish and frame to the decorative centerpiece, they match any facade.
Our entry doors come in either fiberglass or steel construction. After you choose the material, you can select a stain to get the color you want. Next, you can select your decorative glass centerpiece. Our craftspeople are experts in precision cutting, mitering, and soldering, leaving you with a centerpiece like no other.
To finish it off, we offer a wide range of waves, textures, and seeds to further make your decorative glass your own.
Next, choose your frame. We offer a PVC vinyl-aluminum frame with exterior cladding and a composite frame with exterior brick mold. These frames "seal the deal" by keeping humidity out, leaving your home more energy-efficient than it was before.
Emtek® and Schlage® supply our hardware here at Acadian, and you can choose from a selection of high quality handles, knobs, and locks.
Choosing Patio Doors Gulfport Residents Trust
Along with entry doors, we're also experts in quiet, smooth, and sturdy patio doors Gulfport locals love.
Each set of patio doors from Acadian comes with our multi-chamber design that keeps the weather out and insulates your home.
There's nothing more frustrating than sliding doors that get stuck and squeal. That's why Acadian's patio doors come with our patented self-lubricating sliding system and tandem wheels that ensure your new patio doors stay smooth and quiet for years and years to come.
Acadian's patio doors also have:
Rigid frames
Self-cleaning tracks
Anodized aluminum tracks built into the sill
Adjustable spring-loaded suspension systems
Steel reinforced panels
To fit an opening of any size, choose between 2-panel, 3-panel, and 4-panel setups.
Gulfport Storm Doors that Are Built to Last
If you live in Gulfport, tropical storms are always on your mind. As a homeowner, a solid and reliable set of storm doors is vital to your home's protection. Acadian supplies storm doors Gulfport can count on because they're strong, shatter-resistant, and beautiful too.
Our storm doors are crafted with extruded aluminum frames and high-impact rated safety glass. In a similar way to windshields, they block out strong winds and won't shatter with the impact of flying debris.
Our storm doors come in a wide range of baked-in colors that stay vibrant no matter what mother nature throws at them. Choose the color and style that best fits your home's look.
The Best Doors Gulfport Has to Offer
We believe excellent customer service is just as important as a high-quality product. We've won numerous Super Service Awards from Angie's List, and our A+ Rating from the BBB is an example of our dedication to our customers.
Our installation specialists are trained to provide you with quick, friendly, and personal service.
Ready to give your home a quick and easy upgrade? Contact us today to learn more about the best doors in Gulfport.