Doors Grosse Tete, Louisiana
Looking for a brand new set of doors Grosse Tete residents love? Look no further! Whether you need a new front door, some patio doors to match your home, or a sturdy set of storm doors, Acadian Windows and Siding has you covered. We know a good set of doors has the potential to beautify your home while increasing your energy-efficiency and safety. So, we provide our clients with quality doors, world-class customer service, and a wide range of home improvement options. This page is dedicated to the different kinds of doors we offer.
Continue reading to find out why Acadian makes doors Grosse Tete locals love.
How Grosse Tete Doors Are Made at Acadian
We provide three doors: main entry doors, storm doors, and patio doors. Every single one of our doors comes in a large selection of styles that allows you to fully customize them to your liking. All you have to do is let us know what you're looking for and our craftspeople will take care of the rest.
Our three main materials are:
After you choose your material, we stain your door and treat it with electrostatic paint. This process ensures the door has a uniform and even coat while locking in the door's color and protecting it from fading.
To protect the door structurally, we employ a nickel vapor deposition process and engineered compounds to strengthen it. This way, your new door resists warping, swelling, denting, and other weather-related wear and tear.
Selecting Your Grosse Tete Entry Doors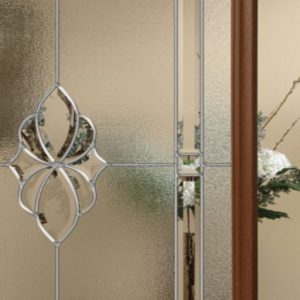 We make entry doors Grosse Tete residents love because they're safe, resilient, and beautiful too. After all, they're the center of your home's facade – so they need to be perfect.
Our entry doors are beautiful because they're completely customizable. Our craftspeople apply their requests to create a door that matches their home flawlessly.
The first decision you make is between fiberglass and steel. Both materials are energy-efficient, and both can receive a door stain of your choosing. Next, choose a decorative glass centerpiece. Our centerpieces are precision cut, mitered, and soldered, and the result is a piece in a league of its own.
Additionally, you can add special textures, seeds, and waves to give your custom glass a unique effect. These textures don't only refract the light that comes in, it looks great from the outside too.
The next decision you make is between a composite door frame and exterior brick mold and a PVC vinyl-coated aluminum frame and exterior cladding. Both of these options increase your home's energy-efficiency and resist weather damage.
Lastly, our hardware is supplied by Emtek® and Schlage®, two companies that make incredible handles, locks, and knobs along with other door hardware.
Choosing Patio Doors Grosse Tete Residents Trust
Looking for a new set of patio doors? We make the best patio doors in Grosse Tete because they're quiet, smooth, and last for years.
Each set we make comes with our custom multi-chamber design. This design increases their durability to inclement weather, reduces the amount of energy you need to heat your home, and increases ease of use.
The first thing you notice with a set of Acadian patio doors is how quietly they operate. This is thanks to our patented self-lubricating system and tandem wheels.
Acadian patio doors also come complete with:
Rigid frames
Self-cleaning tracks
Anodized aluminum tracks built into the sill
Adjustable spring-loaded suspension systems
Steel reinforced panels
Finally, you can select from 2-panel, 3-panel, and 4-panel sizes.
Grosse Tete Storm Doors that Are Built to Last
The Gulf Coast is no stranger to tropical storms and hurricanes, and when your safety is on the line, there's no better investment than a good set of storm doors. Acadian makes storm doors Grosse Tete residents can trust.
Our storm doors in Grosse Tete are guaranteed to stand up to the worst weather because they feature extruded aluminum frames and windshield-like laminated safety glass that resists impacts and high-speed winds.
All that strength doesn't mean they sacrifice style, though. Our storm doors come in a variety of styles and colors that will last their lifetime.
The Best Doors Grosse Tete Has to Offer
At the end of the day, high-quality products don't mean much without high-quality customer service. Acadian Windows and Siding has won many Super Service Awards from Angie's List, and we've maintained an A+ Rating from the Better Business Bureau.
Are you ready for your beautiful new doors? Contact Acadian today so we can start planning your project in Grosse Tete.