Doors Gonzales, Louisiana
Doors Gonzales families love are a great way to quickly spruce up your home's appearance, improve your home's energy-efficiency, and increase your security as well. Acadian Windows and Siding supplies doors Gonzales residents can trust with high-quality materials with expert craftsmanship and excellent customer service.
Here at Acadian, we offer all kinds of home improvements. From windows, Glass Walls, and pergolas to storm doors, patio doors, and main entry doors, you're bound to find what you're looking for with us. This page is dedicated to our ever-popular options for doors. Continue reading to learn more about what makes them so great.
How Gonzales Doors Are Made at Acadian
At Acadian, we have doors for every purpose – entry doors, storm doors, and patio doors. Each one of our door options can be personalized because they come in a large selection of styles. Quality and craftsmanship is arguably the most important factor when selecting new doors, and we have it down to a science.
These are the materials we use:
After you select a base material for your door, we stain it by hand and apply an electrostatic paint. This locks in those deep and rich hues while guaranteeing a uniform and even coat across the surface.
After that, we utilize nickel vapor deposition and engineered compounds to strengthen the door even more. After these treatments, the door is super resilient and resists warping, denting, and other wear and tear.
Selecting Your Gonzales Entry Doors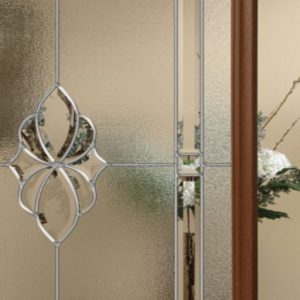 One of our most popular offerings are our entry doors. People love Acadian's entry doors because they're beautiful and strong and secure.
The beauty comes from their customizability. Our entry doors are guaranteed to match your home's looks because you design them, and they do much more than just look good.
First, you select either a fiberglass or steel build. After that, you select a door stain and a decorative glass pattern to tie it all together. Our decorative glass is handmade by experienced craftspeople with precise cutting, mitering, and soldering techniques.
After you choose a design, you can add embellishments like textures, waves, and seeds. This last step wraps the centerpiece up and adds a unique spin to your door's look.
Next, choose the frame your door will sit in. We offer a weather-resistant composite option with exterior brick mold and a PVC vinyl-coated aluminum option with exterior cladding. Both of our frames insulate your home and resist age-related damage.
The last step in the entry door process is to choose your high-quality hardware, supplied by Emtek® and Schlage®.
Choosing Patio Doors Gonzales Residents Trust
After entry doors, Acadian also offers incredible patio doors. Our doors are quiet, smooth, safe, and secure, meaning they're patio doors Gonzales residents love.
What makes our patio doors energy efficient is our custom multi-chamber design. This creates a buffer between the outside weather and the interior of your home, meaning it takes less energy to achieve a comfortable temperature.
Along with that, Acadian's patio doors are made with our patented self-lubricating sliding rails. The tandem wheels that they come with mean they stay quiet and smooth for years and years.
Our patio doors also come with:
Rigid frames
Self-cleaning tracks
Anodized aluminum tracks built into the sill
Adjustable spring-loaded suspension systems
Steel reinforced panels
Pick whichever configuration best suits your home: a 2-panel, 3-panel, or 4-panel.
Gonzales Storm Doors that Are Built to Last
Storm season is no joke here in Southern Louisiana, and Acadian makes storm doors Gonzales locals can count on when they need them most. Our storm doors are strong while retaining that customizability that enhances your home's look too.
Our storm doors are strong because we build them with ultra-tough extruded aluminum frames and laminated safety glass. Think of a windshield – they stand up to high wind and will not shatter with impact.
To ensure you get a storm door that you love, you can choose between several styles as well as colors that are baked in, leaving a finish that lasts for years.
The Best Doors Gonzales Has to Offer
Along with our doors Gonzales families love, we also have the best customer service in the area. Our experts are trained to provide you with attentive and courteous customer service along with a speedy installation.
Over the years, we've won multiple Super Service Awards from Angie's List and maintained an A+ Rating from the BBB.
Ready to move forward? Contact us today so we can begin planning your brand new beautiful doors.