Doors Geismar, Louisiana
Are you a homeowner looking for beautiful doors Geismar residents love? Let Acadian Doors and Windows show you the unmatched doors services we offer. Our team of customer service and installation experts as well as our high-quality doors will make your next home update a breeze.
Getting new doors that your family will love can be a time-consuming challenge, so our home experts at Acadian are here with you from style selection to installation. We will guide you through the latest door styles and trends and show you a wide variety of color and style options. Keep reading to learn why Geismar residents trust Acadian with their home doors.
How Geismar Doors Are Made at Acadian
Geismar residents can pick from three main types of doors at Acadian Windows: entry doors, patio doors, and storm doors.
While each door type fulfills different duties, we only make our doors with premium materials, ensuring that your new doors will be strong and long-lasting. We also make sure that your new doors will match the overall style of your home.
The main materials your Acadian doors are made from are wood, steel, and fiberglass. We cure our wood doors through a special oven process, making them tough against typical wood door damages such as cracking, fading, and warping. You can trust that Acadian wood doors will last as long as your home does.
Selecting Your Geismar Entry Doors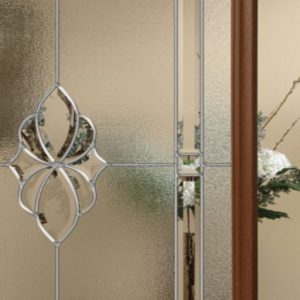 Entry doors must look beautiful and protect your home at all times of the day. These doors will give your family, friends, and guests the first impression of your home, so you want them to reflect your home's style beautifully.
Acadian doors are made with both beauty and security in mind: with either a brickmold and rot-resistant composite frame or a PVC vinyl coated aluminum frame, our entry doors are made for longevity. With Emtek® and Schlage® hardware, we make sure that our doors are secure down to the smallest detail.
Our entry doors are also crafted with artistic sense and style. Wood style doors are hand-stained by our craftsmen team, while any glass elements are hand-placed onto the door. All glass elements can also be designed to match your home's aesthetic feel, with various pattern and color options to choose from.
Choosing Patio Doors Geismar Residents Trust
Though patio doors are less visible than entry doors, they must be reliable, practical, and operate smoothly for many years.
A frequent issue with competitor's patio doors is that their internal structure is weak, causing unpleasant squeaks and difficulty opening the door after frequent use. Acadian's patio doors are crafted using a weather stripped, multi-chamber build, allowing our doors to withstand years of various weather conditions and daily use.
Geismar patio doors from Acadian are reliable and built-to-last from day one. Their energy efficient design also keeps your southern home cool in the summer and warm throughout the winter months.
Geismar Storm Doors that Are Built to Last
Storm doors are an integral part of maintaining your home's safety and integrity. As a Louisiana-based company, we understand the challenges of living in a subtropical climate. From rain showers to hundred-degree summers, our storm doors are key to your Geismar home's safety through hurricane season.
Tempered safety glass and an extruded aluminum frame are the two key features that make Acadian storm doors so successful. Tempered glass is also used on modern car windshields, so you can trust that it won't break due to severe weather conditions.
Your storm doors also deserve to match your home's beauty. Every storm door style from Acadian comes with a variety of color options that allow you to customize these practical doors.
The Best Doors Geismar Has to Offer
Geismar residents know that they can trust the doors and service found at Acadian Windows and Siding. From your entryway to your patio doors and storm doors, we only use the best materials in the home improvement business. Combined with our experienced team of technicians, craftspeople, and customer service professionals, we offer all of our customers the best service available.
Every home Acadian serves is treated as if it is our own. Our outstanding service and products have earned us an A+ rating from the Better Business Bureau, along with multiple Angie's List Super Service awards.
Your home can stand out from the rest while still serving you and your family well. Contact us today to see what Acadian Windows and Siding can do for your home.