Doors Franklinton, Louisiana
The doors Franklinton families will love can be found at Acadian Windows and Siding. Specializing in more than our name suggests, we offer customers premium doors to make your house beautiful and protected. As many Louisianans can attest to, quality is our number one priority, both in the materials used in our products and in the customer service we provide.
Our team of professional installation technicians make the process of finding, selecting, and installing a door simple and easy, so there's no need to feel pressure if you're not quite sure what the perfect door is for you. With many years of experience, we can accurately advise you on the best colors, style, and types of doors that are available. Read on to see why Acadian Windows is the best company to upgrade your doors today.
How Franklinton Doors Are Made at Acadian
Franklinton residents can select from three main types of doors at Acadian: entry doors, patio doors, and storm doors.
Though each type of door serves a different purpose, all three are equally durable, long lasting, and made from beautiful materials to match your home's style, decor, and color scheme.
A long lasting door starts with quality at the most basic level: material. That's why we use the strongest material out there: fiberglass, steel, or wood depending on the type of door. For our wood doors, we double reinforce them by a special process that cures them in the oven, making them resistant to cracking, warping, and external damage so that your door will last a lifetime. If that doesn't say "quality," we're not sure what does.
Selecting Your Franklinton Entry Doors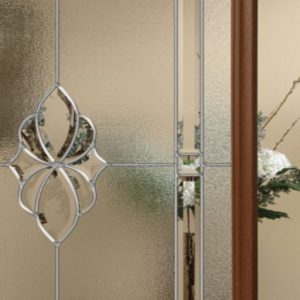 Impress your guests, neighbors, and friends with the first thing they see when they look at your house: beautiful entry doors. Match that beauty with materials strong enough to keep intruders out and you've got yourself an Acadian door.
Our entry doors are built to last with either exterior brickmold and rot-resistant composite frame or a PVC vinyl coated aluminum frame. Emtek® and Schlage® hardware further enhances the security of our doors.
We spruce up these well-secured doors by adding an artistic flare to them. All of our doors are painted with a deep hue that surrounds the colorful and intricate stained glass. We can help guide you to the perfect pairing as you search through a wide selection of colors and patterns to match your home.
Choosing Patio Doors Franklinton Residents Trust
At some point in our lives, we've all had to deal with a door that doesn't work quite right. Usually, it's due to poor design. With Acadian patio doors, you won't have to deal with any squeaks or blocks. You'll be dealing with doors that are durable and easy to use.
We prioritize what's most important about patio doors: the functionality. That's why we use a multi-chamber design and weather stripping which allows our patio doors to hold up in harsh climates no matter what.
This means that your Franklinton patio doors won't rust after it rains. Instead, they'll stay silent and smooth every time you open and close them. Our patio doors are also extremely energy efficient, keeping warm air in during the winter and hot air out during the summer.
Franklinton Storm Doors that Are Built to Last
If you've lived in Louisiana long enough, you know that there's one thing we don't have control over: the weather. But we do have control over how we deal with the rains and winds that can do damage to our homes. By installing storm doors, we keep our homes safe from flooding and other weather related destruction.
At Acadian, our storm doors are made with extruded aluminum frame and tempered safety glass. This glass is the same type used in car windshields, which creates an added level of safety and security.
But as we've said before, quality is our number one priority, and that includes functionality and design. Each storm door is customizable and comes in a variety of colors and styles so they can seamlessly blend into your home's overall color scheme.
The Best Doors Franklinton Has to Offer
To find the best doors Franklinton has to offer, let Acadian Windows and Siding be your provider. We sell entry doors, patio doors, and storm doors made out of the highest quality materials. On top of that, we only employ the highest quality installation experts who have years of experience offering top of the line service.
From our first customer to our most recent, we have treated every home as if it were our own. Quality customer service and installation has earned us consecutive Angie's List Super Service awards and an A+ Rating from the Better Business Bureau.
You deserve a home that is both beautiful and functional. Contact us today to learn more about the best doors Franklinton can offer you.