Doors Diamondhead, Mississippi
Diamondhead, Mississippi is home to many beautiful homes, and Acadian Windows and Siding is dedicated to supplying doors Diamondhead residents love and rely on. Doors serve many purposes: they give your home aesthetic appeal, seal the interior from the outside elements, and provide you with security. No matter what kind of doors you need, Acadian is a great place to find what you're looking for.
As you may have guessed, Acadian Windows and Siding offers all sorts of home improvements. This post takes a closer look at our many varieties of doors that quickly improve your home. Read on to learn more about the best doors Diamondhead residents can find.
How Diamondhead Doors Are Made at Acadian
We offer three different door types: entry doors, patio doors, and storm doors. With high-quality materials and expert craftspeople, each type of door is 100% customizable, leaving you with a multitude of options to choose from.
There are three options for materials:
Each door we offer is stained by hand and coated with electrostatic paint. The result is an even, rich, and deep finish that lasts for years.
To take the durability to the next level, our state-of-the-art nickel vapor deposition process fortifies our doors, making them resistant to dents, warps, and other damage from the outdoor elements.
Selecting Your Diamondhead Entry Doors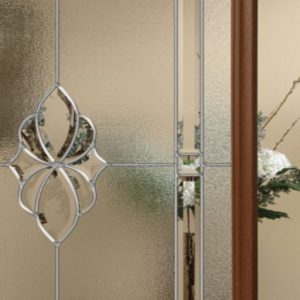 Entry doors are the center of your home's facade. In order to properly reflect your home's beauty, it's important that they're perfect.
That's why our entry doors here at Acadian are crafted to your specifications. They fit your home's overall look while bringing you the latest and greatest door technology.
First, select a fiberglass or steel material. Next you can choose a door stain along with personalized central glass. Decorative glass is a major factor in the door's beauty, and our expert craftspeople employ precise cutting, mitering, and soldering techniques to make your centerpiece a standout feature.
Along with expert technique, you can add a custom texture, wave pattern, or seeds to your decorative glass. The effect textured glass has on sunlight creates a beautiful visual inside your home while looking great from the outside.
Finally, it's time to choose a frame for your new door. We offer a composite door frame with exterior brick molding and a PVC vinyl-coated aluminum frame complete with exterior cladding. Both offerings are weather-resistant and create an exceptional seal for added insulation and durability.
The cherry on top is Emtek® and Schlage® hardware. Emtek® and Schlage® are both widely  regarded as having some of the best knobs, locks, and handles in the industry.
Choosing Patio Doors Diamondhead Residents Trust
If you're looking for patio doors, Acadian makes the quietest, smoothest, and most secure patio doors Diamondhead can offer.
Our patio doors have our multi-chamber design, which is resistant to harsh weather and energy-efficient. Increased energy-efficiency improves your home's internal climate as well as saves you money on bills.
Thanks to our patented self-lubricating sliders and our tandem wheels, our patio door systems are guaranteed to stay smooth, quiet, and resilient for their entire lifespan.
Acadian's patio doors come with:
Rigid frames
Self-cleaning tracks
Anodized aluminum tracks built into the sill
Adjustable spring-loaded suspension systems
Steel reinforced panels
Choose from  2-panel, 3-panel, and 4-panel configurations to perfectly fit your patio space.
Diamondhead Storm Doors that Are Built to Last
Southern Mississippi locals are no strangers to tropical weather. Acadian produces storm doors Diamondhead residents can rely on to protect their homes and their safety.
Our Diamondhead storm doors are backed up with extruded aluminum frames with extremely tough safety glass. Like a windshield, they won't shatter when blasted with strong winds and impacted with storm debris.
However, all that strength doesn't sacrifice looks. Our storm doors are customizable with a wide selection of baked-in colors that leave a beautiful and lasting finish.
The Best Doors Diamondhead Has to Offer
Along with bringing you the best doors in Diamondhead, Acadian brings you the best customer service in the Gulf Coast. Our technicians are individually trained to provide you with a quick and courteous installation experience.
We're proud to display our multiple Super Service Awards from Angie's List and our A+ BBB rating as a testament to our impeccable customer service.
Ready to get started? Contact us today to learn more about the best doors in Diamondhead and how they can instantly improve your home's beauty, security, and energy-efficiency.