Doors Destrehan, Louisiana
Looking for doors Destrehan residents love? At Acadian Windows and Siding, we do a lot more than our name suggests. Acadian offers high-quality, durable, and beautiful doors that are made especially for you and your home. 
Whether you're looking for a statement piece to go on the front of your home, something practical and long-lasting for your back patio or something strong and reliable for upcoming storms, each of our doors is hand-crafted and can match your home's aesthetic. 
We know what it takes to design, craft, and install doors all across the Gulf Coast. As a local company, we have technicians working across the region offering top-notch customer service, giving you a personal touch.
How Destrehan Doors Are Made at Acadian
Acadian offers doors in three main categories while providing customers with a plethora of color and design options within each category.
Shop online or stop by our showroom and see our entry doors, patio doors, or storm doors that will match the beauty of your home. 
We use only the highest quality materials to build each door. In fact, all of our doors are made from either fiberglass, steel, or wood depending on the complexity of the door. We use a nickel vapor deposition technology that ensures that the wood looks authentic while standing up to the harsh Destrehan weather. 
When it comes to beauty and design, all of our stained doors are handmade and cured in the oven so that intense rain and sun don't cause lasting damage. At Acadian, we take pride in creating well-tested doors that withstand anything.
Selecting Your Destrehan Entry Doors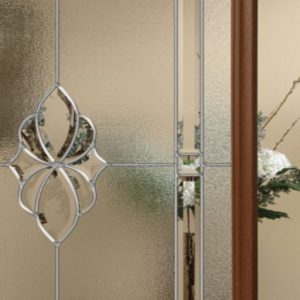 When it comes to upgrading or building your home, nothing matters quite as much as an entry door. Choosing your Destrehan entry door is easy with Acadian's high level of customer service and satisfaction guarantee. 
We work with you to determine the material, design, and level of complexity you desire so that it matches the look and feel of your home. 
For those who want to level up a bit, Acadian offers decorative glass options to further enhance your curb appeal and your home's beauty. No two pieces of glass are ever the same as artists work by hand to create unique patterns and striations in every plate of glass. 
Even our glass doors are made with durability in mind. We want you to choose a door you can trust to protect your home. That's why our doors are made with either exterior brickmold and rot-resistant composite frame or a PVC vinyl coated aluminum frame. We also offer hardware from Emtek® and Schlage® to make sure that your door is secure as can be.
Choosing Patio Doors Destrehan Residents Trust
Your patio is a bit more private than your front entrance. Rather than something decorative and flashy, you want something trustworthy and durable. 
All of our panels are reinforced with steel, so you know your door will last a lifetime and stand up to unwanted intruders, debris, or even wild animals. 
Our patented self-lubricating sliding system creates the quietest doors on the market today. 
Our patio doors also feature: 
Self-cleaning tracks

Anodized aluminum track built into sill

Adjustable spring loaded suspension system
Our customers can also choose from 2-panel, 3-panel, and 4-panel configurations.
Destrehan Storm Doors that Are Built to Last
As a local south Louisiana company, we know the importance of your Destrehan storm doors and how real the threat of storms and inclement weather really are. 
All of our storm doors are reinforced with an extruded aluminum frame and tempered safety glass, so you won't need to worry about damage from winds, rain, or debris. Tempered safety glass is similar to the glass found in car windshields which adds an extra layer of security. 
However, our storm doors aren't just safe–they look great too. All of our Destrehan storm doors come in a variety of colors and styles. 
In fact, one of the best parts about Acadian's storm doors is their ability to let in natural light. We know the importance of bringing more light into your home without sacrificing safety and durability.
The Best Doors Destrehan Has to Offer
Acadian Windows and Siding offers the best doors in Destrehan. Not only that, but we are known across the South for our high-end materials and our unparalleled customer service. It's no wonder why we have an A+ rating from the Better Business Bureau and consecutive Angie's List Super Service Award. 
We treat every home as if it were our own and get the job right the first time. Contact us today and get the doors Destrehan residents love.