Doors Covington, Louisiana
Finding doors Covington residents will love has never been easier. At Acadian Windows and Siding, we are Louisiana's one-stop-shop for doors to fit your home's every need and aesthetic. Whether you're looking to increase the energy efficiency of your home, hunker down through a storm, entertain guests on the patio, or embellish the exterior of your home, we have the door for you. 
Putting your trust in a company to renovate your home is no small task. In addition to our A+ Rating from the Better Business Bureau, we have received six Super Service Awards from Angie's List. Let Acadian help you make your home look and feel its best with our durable and beautiful line of doors.
How Covington Doors Are Made at Acadian
As our doors come in three main categories, we are more than prepared to help you outfit your home for whatever it and you need most. 
Acadian creates sturdy and customizable entry doors, patio doors, and storm doors. We will do all of the installations for you and work with you to create a door that matches the style of your home.
We craft our doors from fiberglass, steel, and wood. You can take comfort in the fact that our doors are made with a nickel vapor deposition technology, ensuring that the wood not only looks authentic but will endure against the roughest Louisiana weather. 
Our stained doors are made by hand and then cured in the oven to make sure they stand up to even Mother Nature.  
When you purchase an Acadian door, you know that you are purchasing a door with one-of-a-kind beauty and well-tested stability.
Selecting Your Covington Entry Doors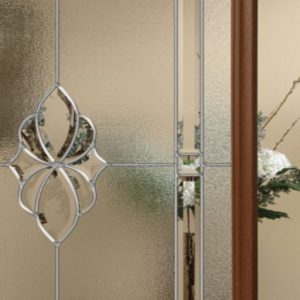 When you invite friends and family to your home, your front door will form their very first impression of your house. Make sure that first impression is a great one with a personalized entry door from Acadian Windows and Siding. 
Our entry doors come in both fiberglass and steel to complement the fashion of your home. Make your door a truly unique creation with our array of color choices and deep stains. 
Decorative glass can be used to further highlight your home's personal aesthetic. Acadian entry door glass is hand-crafted by artisans. Like snowflakes, no two pieces of glass are ever identical, as each comes with its own unique pattern of waves and striations.
A grand front door is crucial to a beautiful home exterior, but you don't want a flimsy barrier between your loved ones and the harsh Louisiana elements. Choose a durable door you can trust with Acadian. Our doors are made with either exterior brickmold and rot-resistant composite frame or a PVC vinyl coated aluminum frame. We also offer hardware from Emtek® and Schlage® to make sure that your door is secure as can be.
Choosing Patio Doors Covington Residents Trust
Acadian Patio doors are the best on the market. All of our panels are reinforced with steel, ensuring that you can welcome guests onto your patio and protect your loved ones from Louisiana storms for years to come. 
Our patented self-lubricating sliding system allows our doors to be the quietest around. Banish all fears of irritating screeching noises with our smooth patio doors.
Our patio doors also feature: 
Self-cleaning tracks

Anodized aluminum track built into sill

Adjustable spring loaded suspension system
Acadian offers 2-panel, 3-panel, and 4-panel configurations to complement the size of your patio.
Covington Storm Doors that Are Built to Last
If you live in Louisiana, you've seen firsthand the kind of wreckage that storms can create. That's why we here at Acadian have built our storm doors to endure whatever the weather might throw our way. 
Our storm doors are the most durable you can find. They are reinforced with an extruded aluminum frame and tempered safety glass, so you won't need to worry about damage from winds, rain, or debris. 
Since storm doors are part of the aesthetic of your house too, it's important that they also add visual appeal. Our storm doors come in multiple styles and colors to help your storm door blend seamlessly into the rest of your home.
Here in Louisiana, we sure receive a lot of storms, but we also receive a lot of sunshine. That's why our storm doors are designed to increase the natural lighting in your home, adding not only to your home's beauty but to its energy-efficiency.
The Best Doors Covington Has to Offer
A house should be more than just a place to lay down your weary head at night. A house should be a place of joy, safety, and relaxation. 
At Acadian Windows and Siding, we treat every house like our own home. Contact us today to help us outfit your home with a door that matches your needs and makes your house into a home.