Doors Chalmette, Louisiana
The best doors Chalmette has to offer are at Acadian Windows and Siding. Offering more than just the name suggests, Acadian provides high-quality doors and unmatched customer service to residents throughout Chalmette and across the region.
Whether you are looking for an upgrade or building a brand new home, you can find everything you need at Acadian. From custom entry doors to functional storm doors, we use top of the line materials to ensure you get the best products available. Discover why Acadian offers doors Chalmette residents love to show off.
How Chalmette Doors Are Made at Acadian
Acadian offers doors in three main categories: entry doors, patio doors, and storm doors. Every door can be customized to your needs by using a selection of durable and long-lasting materials paired with hand-crafted artistry.
Most doors are made from either steel, wood, or fiberglass and we use state of the art processes to ensure both strength and security.
Acadian's wood doors are cured and oven-baked to create beautiful designs while strengthening the core material. We handle the installation of every door so the process is simple and easy.
Selecting Your Chalmette Entry Doors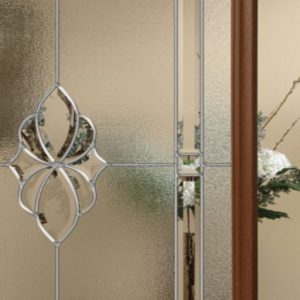 Entry doors are one of the most important elements of any home. Not only do they provide a valuable first impression, but they also act as the first line of defense against would-be intruders. That's why we make entry doors that act as both artistic pieces and functional devices.
Our doors are highly customizable and can fit the needs and style of any home. We know that security is just as important as design. That's why our doors are built to last with either exterior brickmold and rot-resistant composite frame or a PVC vinyl coated aluminum frame. Emtek® and Schlage® hardware further enhances the security of our doors.
To truly make it your own, our doors can also come with one of a kind artistry. All of our wood door stains are hand painted before they are cured in the oven to strengthen the material. To add even more artistic elements, you can also enhance your entry door with stained glass. Using different stained glass, we are able to create unique textures and styles so that your home stands out the moment you set eyes on it.
Choosing Patio Doors Chalmette Residents Trust
Chalmette patio doors are so common because everyone here loves to enjoy the outdoors. On a beautiful day, nothing is better than stepping outside in the privacy of your own backyard.
Most patio doors rust and squeak over time after wear and tear. Fortunately, Acadian's patio doors are specially designed to last through harsh weather and prevent any squeaky and annoying sounds. Using our multi-chamber design and weather stripping, each patio door pane can silently move across the tracks so you no longer bother your neighbor with creaks.
Each patio door comes in either a 2-panel, 3-panel, or 4-panel configuration so the proportions look right in comparison to your outdoor space.
Chalmette Storm Doors that Are Built to Last
Storm doors hold a special significance in Louisiana. We know all too well how bad torrential rain and raging winds can impact a home. That's why our storm doors are made from the toughest aluminum and glass around.
Each door is made with extruded aluminum frame and tempered safety glass, which is the same material that is used in car windshields. Safety is our first priority when it comes to outfitting your home and we know what it takes to protect your family and your belongings.
Our Chalmette storm doors are sold in many different colors and styles, so you needn't worry about your storm door sticking out of your house like a sore thumb.
The Best Doors Chalmette Has to Offer
Acadian Windows and Siding provides the best doors Chalmette has to offer because we use top of the line materials and are deeply committed to customer service. Our philosophy is to treat every home as if it were our home, so you know we always go the extra mile every time.
It's no wonder that Acadian Windows has been granted consecutive Angie's List Super Service awards and an A+ rating from the Better Business Bureau.
We want you to have the best doors in Chalmette and we are here with you every step of the process. Contact us today to learn more about how our door renovations can enhance the style and safety of your house.