Doors Carriere, Mississippi
Looking for doors Carriere homeowners will love? Acadian Windows and Siding offers high-end doors with unmatched customer service. Our extensive collection of materials is paired with hand-crafted artistry to provide customers with truly unique doors for their homes.
Doors are a critical part of any home. Whether you need to spruce up your front entrance or protect your family from would-be intruders, a well-made door is all you need. We know you take pride in your home, which is why we only use the best materials that are sure to last a lifetime. Check out all of our different doors available to you and find something that matches your home's look and feel.
How Carriere Doors Are Made at Acadian
The three main types of doors Carriere residents can buy at Acadian are entry doors, patio doors, and storm doors.
Each door serves a different purpose and uses specially made materials and processes to ensure the highest quality. We know that durability matters, so we offer doors that don't require maintenance or upkeep.
Our doors are made from premium fiberglass, steel, and wood that won't rust, break, or degrade in harsh weather conditions. Our wood doors are baked and cured in the oven, creating a chemical process that prevents cracking, warping, and external damage.
Selecting Your Carriere Entry Doors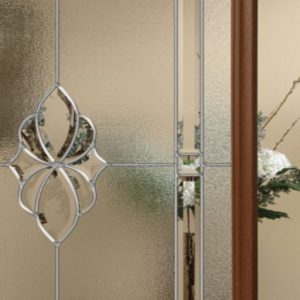 Entry doors are one of the most important elements of any home. Many times, an entry door is the first impression someone gets from your home. Whether they are a guest or just a neighbor passing by, your entry door will tell them a lot about you and your home. Also, entry doors act as a first defense from any break-ins and needs to be both beautiful and durable.
Acadian's doors are built to last and use either exterior brickmold and rot-resistant composite frame or a PVC vinyl coated aluminum frame. Emtek® and Schlage® hardware further enhances the security of our doors.
The artistry involved in our Carriere entry doors is unmatched by our competition. All of the stains are hand-drawn and the decorative glass is specially picked and placed by true artists. This gives your entry door a unique look that can match your home's aesthetic.
Choosing Patio Doors Carriere Residents Trust
Patio doors Carriere neighbors will can be found at Acadian Windows. Patio doors can be a particularly troublesome addition to your home. If you select poorly built doors from another company, they have the tendency to break down and squeak over time. This creates an annoying sound that can disturb not just you, but your neighbors as well.
At Acadian, we build patio doors to last a lifetime, so you don't have to worry about bothering anyone at your next barbecue or crawfish boil.
In fact, our multi-chamber design and weather stripping are built specifically for the harsh climates and can withstand nearly anything. That way, they have a silent opening and closing mechanism and you can be excited to go in and out of your home.
Carriere Storm Doors that Are Built to Last
In the Gulf Coast, we know all too well how harsh the climate can be. From torrential rains to raging floods, your Carriere storm doors need to be able to withstand the elements.
Acadian's storm doors are made with an extruded aluminum frame and tempered safety glass. This glass is the same type that is used in car windshields and provides an extra degree of protection for your home. These storm doors won't crack, warp, or shatter under pressure so you can rest assured that you and your loved ones are safe.
In addition to being sturdy, our storm doors are also energy efficient. The large glass panel allows light and warmth to come in during the winter without letting out the cool air during the summer. Not to mention the fact that these storm doors can be customized with variations of paneling, colors, and styles so that they instantly match your home after installation.
The Best Doors Carriere Has to Offer
Acadian Windows and Siding provides the best doors Carriere has to offer. By using top of the line materials and unparalleled customer service, we're able to give our customers a truly unique door with zero hassle.
Our philosophy is to treat every home as if it were our own. It's no wonder why Acadian Windows has won consecutive Angie's List Super Service awards and earned an A+ Rating from the Better Business Bureau.
We truly care about you and the work we do. Contact us today to learn more about the best doors Carriere has to offer.