Doors Braithwaite, Louisiana
Looking for doors Braithwaite families can trust to enhance their homes? Acadian Windows and Siding is the best home improvement company you can ask for, specializing in windows, siding, and, of course, beautiful doors of all varieties.
We know that doors are one of the most important elements of any home. Whether you want to look polished among your neighbor's houses, have a functional and sturdy addition, or have something that can withstand harsh climate, our doors can do it all. Discover the different varieties of doors we offer and mix and match materials, colors, and methods to create something truly unique to your home.
How Braithwaite Doors Are Made at Acadian
There are three main types of doors Braithwaite residents can purchase at Acadian Windows and Siding: entry doors, patio doors, and storm doors.
All of our doors are made with durable and long-lasting materials so you don't have to worry about upkeep. They are also extremely customizable so you can match your door to your home's aesthetic.
Braithwaite doors at Acadian are made from the best fiberglass, steel, and wood depending on your choice and style. In fact, our wood doors are double reinforced by being baked in the oven and undergoing a unique chemical process that makes them resistant to cracking, warping, and damage.
Selecting Your Braithwaite Entry Doors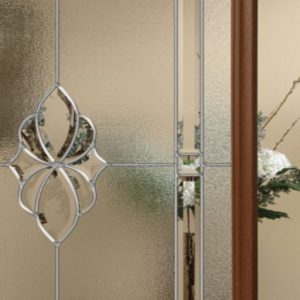 Out of all the different doors we sell, entry doors are consistently the most creative and representative of the personalities of the buyers. That's because the entry door of a home is many times the first impression that visitors get when coming over. We know that you want your entry door to be functional and stylish to both protect and impress.
Our entry doors are built to last with either exterior brickmold and rot-resistant composite frame or a PVC vinyl coated aluminum frame. Emtek® and Schlage® hardware further enhances the security of our doors.
Our wood door stains are all done by hand giving them a true craftsman feel. And, our stained glass panels are made by artists to give you a piece of art right when you enter your home. All of the glass can be customized to your taste and we have a variety of colors and patterns to match your home's exterior.
Choosing Patio Doors Braithwaite Residents Trust
Patio doors serve a very specific purpose that is much different than an entry door. First and foremost, they have to be functional and easy to use. All too often, you find patio doors that are hard to open, difficult to lock, and squeaky or loud when you use them.
At Acadian, we specialize in creating the perfect patio door for your home so you don't run into these common issues. We can achieve this by implementing our multi-chamber design and weather stripping which is made to resist harsh weather and provide you with a silent opening and closing mechanism.
Our patio doors are simple, smooth, and also energy efficient. They use special glass that lets light in without changing the temperature inside, so it stays cool in the summer and warm in the winter.
Braithwaite Storm Doors that Are Built to Last
Louisiana is known for its harsh climate. What we lack in snow storms we more than make up for with floods, hurricanes, and severe rain. At Acadian Windows, we build storm doors that can withstand anything and everything.
Our storm doors are created with an extruded aluminum frame and tempered safety glass, which is the same material that is used in car windshields. Safety is our number one priority when it comes to providing you with a long-lasting storm door.
Even our storm doors can be customized to your liking. You can mix and match with colors, paneling, and different styles so the door matches your siding, deck, or outdoor space.
The Best Doors Braithwaite Has to Offer
At Acadian Windows and Siding, we know the importance of finding a partner you can trust, especially when it comes to your home. We only use the best materials and our installation technicians are highly knowledgeable about all different types of homes.
Our philosophy is to treat every home as if it were our home, so we always put in the extra effort. That's how we earned our A+ rating from Better Business Bureau, as well as the trust of our thousands of customers.
You deserve a home that can be as secure and lovely as possible. Contact us today to learn more about the best doors Braithwaite can offer you.