Doors Bogalusa, Louisiana
Looking for doors Bogalusa residents can trust to last a lifetime? Acadian Windows and Siding offers far more than just our name suggests. We are South Louisiana's premier supplier of doors because we offer an extensive selection coupled with top-notch customer service.
Doors are one of the most important elements of a home and can instantly send a message to neighbors or those passing by. We know you take pride in both how your home looks as well as how it functions. That's why, at Acadian Windows, we only use the best materials and hire the most experienced installation technicians around.
How Bogalusa Doors Are Made at Acadian
There are three main types of doors Bogalusa residents can buy at Acadian: entry doors, patio doors, and storm doors. Because we are a local Louisiana company, we know that quality and durability matter most when it comes to making changes to your home. Nothing is worse than when harsh storms tear up poorly built elements of a house.
Our doors are made from premium fiberglass, steel, and wood materials that won't rust, break, or degrade in the weather. We even reinforce our wood doors by curing them in the oven. This process enables us to provide high quality doors that are resistant to cracking, warping, and external damage.
Acadian's door are more than just functional and durable – they are beautiful too! Check out all of the different door types we have to offer.
Selecting Your Bogalusa Entry Doors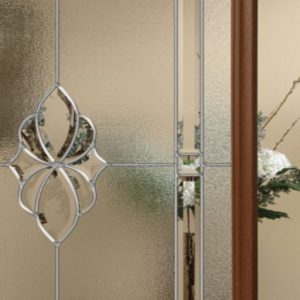 An entry door serves so many purposes for your home. Not only is it many times the first impression that someone gets from your house, but it is also a protective piece of equipment that is meant to keep you and your family safe.
Acadian's doors are built to last and use either exterior brickmold and rot-resistant composite frame or a PVC vinyl coated aluminum frame. Emtek® and Schlage® hardware further enhances the security of our doors.
All of the stains and artistry on our doors are done by hand, so you know you're getting work from a true craftsman. The stains give each door a one-of-a-kind feel and the stained glass panels available make your doors truly stand out.
Choosing Patio Doors Bogalusa Residents Trust
If you're interested in finding patio doors Bogalusa neighbors will love, check out the offerings at Acadian. Nothing is worse than hosting a barbecue or crawfish boil only to have a squeaky and loud patio door constantly opening and closing in the background.
Our patio doors are built with usability in mind. That means that we have created a silent opening and closing system that doesn't rust or break down.
In fact, our multi-chamber design and weather stripping are built specifically for the harsh climates we have in Louisiana. Patio doors are also great for energy efficiency in the winter. They allow tons of light and heat inside without letting out any of the nice air.
Bogalusa Storm Doors that Are Built to Last
Sturdy and effective Bogalusa storm doors are an essential part of your home if you live in the area. You know all too well that extreme heat, violent winds, and crushing rains can occur at any moment.
Acadian's storm doors are built with an extruded aluminum frame and tempered safety glass, just like the glass used in car windshields. The high-end materials that go into our doors ensure a level of comfort and safety you won't receive from any other company. Acadian storm doors don't warp, crack, or shatter under pressure.
These storm doors allow in lots of natural light and enhance the beauty of any interior space. In fact, the storm door itself can be customized to your tastes with different variations of paneling, colors, and styles to match your home.
The Best Doors Bogalusa Has to Offer
At Acadian Windows and Siding, we know the importance of making a good impression. Doors are the first thing people see on their way in and the last thing they see when they leave. That's why we dedicate so much time, energy, and effort into creating beautiful and usable doors that will last a lifetime.
Our installation technicians have years of experience and regularly travel the country to learn the best techniques from other experts like them. Our philosophy is to treat every home as if it were our own, so you know you're getting the best of the best.
There's a reason why Acadian Windows has been awarded consecutive Angie's List Super Service awards and an A+ Rating from the Better Business Bureau. We truly care about you and the work we do. Contact us today to learn more about the best doors Bogalusa has to offer.