Doors Biloxi, Mississippi
Looking for doors Biloxi residents can trust to last? Don't be fooled by our company name. Here at Acadian Windows and Siding, we excel at all sorts of home renovations, including doors. Whatever type of door you need, we have it, be it for having a party on your patio, weathering through a storm, or simply enjoying the privacy of your own house. 
Why choose Acadian for all your door needs? Because we guarantee that our selection of customized doors, coupled with our excellent customer service, can't be matched in all of Biloxi, Mississippi. Open your home to all sorts of new possibilities with Acadian doors.
How Biloxi Doors Are Made at Acadian
Here at Acadian, we are ready to help you install doors in three main categories: entry doors, patio doors, and storm doors. Not only will we help you set up your door in your new house, but we will work with you to create a unique door that perfectly suits the aesthetic of your home. 
Our doors are made from fiberglass, steel, and wood. The stains on our doors are created by hand and then cured in the oven. We use charged particles to make sure that the stain coat is spread evenly over your entire door.
Acadian doors are made with a high tech chemical process that ensures the wood not only looks genuine but is made to last against all forms of Mississippi weather. With their superior durability and craftsman style, Acadian doors are matched by no others.
Selecting Your Biloxi Entry Doors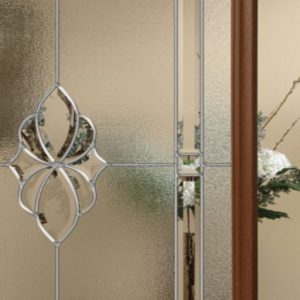 Your entry door is not only a part of your house that you and your neighbors will see every day: it's the gateway to your home. As this entry door is responsible for both protecting your loved ones and highlighting your personal aesthetic to the world, it is crucial that you have an entry door both functional and attractive. 
Our entry doors are made to last. You can choose between an exterior brickmold and rot-resistant composite frame or a PVC vinyl coated aluminum frame. Further enforcing the durability of our doors is our top-of-the-line hardware from Emtek® and Schlage®. All of these features help to preserve the life of your entry door and welcome you into your home for years to come. 
Entry doors can be purchased in both fiberglass and steel to perfectly match the existing style of your home. You can further customize your entry door through deep stains and a variety of colors.
We are also proud to offer our Acadian entry doors with decorative glass created by highly skilled craftsmen. Each decorative glass piece is handmade and involves a delicate balance of cutting, mitering, and soldering into a work of art. Every piece of decorative glass is unique, as it is impossible to exactly replicate every textural wave and striation from one art piece to another.
Choosing Patio Doors Biloxi Residents Trust
With our patio doors, you will never have to worry about unpleasant screeching noises irritating your neighbors, as Acadian patio doors are the smoothest patio doors around. 
How do we manage to have the quietest patio doors in the south? Because we have a patented self-lubricating sliding system that features tandem wheels. 
Our custom multi-chamber design allows our patio doors to protect you and your home from the toughest weather that the Gulf might throw at you. 
Our patio doors also feature: 
Sturdy frame

Self-cleaning tracks

Anodized aluminum track built into sill

Adjustable spring-loaded suspension system
Our customers can also choose from 2-panel, 3-panel, and 4-panel configurations.
Biloxi Storm Doors that Are Built to Last
Here in Mississippi, we're no strangers to all sorts of foul weather. Acadian storm doors are among the most durable you will ever find. That's because our storm doors are reinforced with an extruded aluminum frame and tempered safety glass, ensuring that you and your loved ones are safe from high winds and flying debris. 
Our storm doors won't just protect you from the bad-tempered weather. They're also designed to increase the natural light in your home and increase the energy-efficiency of your home. 
Like all of our doors, Acadian storm doors come in a variety of styles and colors to match the existing aesthetic of your home.
The Best Doors Biloxi Has to Offer
We understand that your house is your place for respite, safety, and comfort. Choosing a company to trust with your home renovations is no small task. 
You can count on Acadian to treat your home with the respect it and you deserve. You only have to take a look at our consecutive Super Service Awards from Angie's List to know that we're being truthful. 
Contact Acadian today and let us help you further your home's comfort, security, and beauty.