Doors Bay St. Louis, Mississippi
Looking for doors Bay St. Louis families will love? At Acadian Windows and Siding, we pride ourselves on our being specialists in more than just windows and siding. With top of the line customer service, we offer premium doors that are made out of the best materials around.
It's not the easiest task to find, select, and install a door. But at Acadian, we make this task simple with an excellent support team that can help with the selection process. We also employ technicians with years of experience in installing doors. From selecting the best color, style, and type of door, your Acadian team is here to help install doors Bay St. Louis homeowners will love. Let's get started on getting you new doors today!
How Bay St. Louis Doors Are Made at Acadian
Acadian supplies three main types of doors
Bay St. Louis residents can purchase, including entry doors, patio doors, and storm doors.
Although these three types of doors are different and serve a different purpose, each door is durably made with the goal of lasting a lifetime. Of course, we make sure that options are available so that your doors match your home's look and feel.
Depending on the function of the door, Acadian doors are made with fiberglass, steel, and wood. We're particularly excited about our wood doors, which are double reinforced by a special process that cures them in the oven, making them resistant to cracking, warping, and external damage. We're committed to making your doors last a lifetime.
Selecting Your Bay St. Louis Entry Doors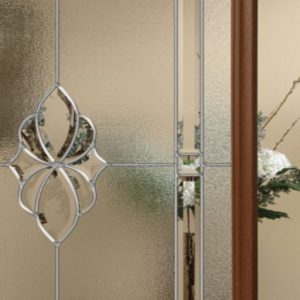 The entry doors are the focal point of a home, but they can't just be beautiful objects; they need to protect your home from intruders, too.
At Acadian, we put an equal emphasis on the beauty and functionality of our doors so that you can both impress your guests and keep your home safe. Our entry doors are built to last with either exterior brickmold and rot-resistant composite frame or a PVC vinyl coated aluminum frame. Emtek® and Schlage® hardware further enhances the security of our doors.
Acadian collaborates with artistically inclined craftsmen to make our entry doors stunning. If you choose to include stained glass in our hand painted wood doors, the glass is placed with an artistic touch. As with most items at Acadian, you can customize the glass by selecting from a variety of colors and patterns to match your home.
Choosing Patio Doors Bay St. Louis Residents Trust
While it's not as important for patio doors to have an artistic appeal, functionality is the main component of our durable, easy to use patio doors.
Other companies' patio doors tend to be made quickly and cheaply, which means the internal mechanisms rust and break, leaving you with a squeaky, nearly useless door. At Acadian, we take time in building our doors, incorporating a multi-chamber design and weather stripping which allows our patio doors to hold up in harsh climates no matter what.
You can count on your Acadian patio doors to be silent and smooth every time you open and close them. Plus, these energy-efficient doors are guaranteed to keep your house cool in the summer and warm in the winter.
Bay St. Louis Storm Doors that Are Built to Last
Living near the Gulf means Bay St. Louis residents need storm doors to keep their homes safe. With Acadian's powerful storm doors, you can be sure you and your home will be safe from those strong summer storms and winds.
We make our storm doors powerful with extruded aluminum frames and tempered safety glass. To get a sense of how powerful this glass is, it's the same glass used in car windshields.
At Acadian, we know a door isn't just about functionality, so we make our storm doors customizable by providing a variety of colors and styles to blend right into your home's overall style.
The Best Doors Bay St. Louis Has to Offer
Want the best doors Bay St. Louis has to offer? Start at Acadian Windows and Siding. We provide our customers with entry doors, patio doors, and storm doors made out of the best materials. They are then installed by experts with extensive experience in customer service.
As we've done with every customer since the beginning, we will treat your home as if it were our own. Our track record has earned us consecutive Angie's List Super Service awards and an A+ Rating from the Better Business Bureau.
You deserve doors that are both beautiful and functional. Contact us today to learn more about the best doors Bay St. Louis can offer you.