Doors Baton Rouge, Louisiana
Looking for doors Baton Rouge residents love as much as their LSU Tigers? Acadian Windows and Siding provides statement doors that welcome guests every football season. Even when the season is over, Acadian can amplify your home's appearance with a variety of doors, styles, and configurations as your Baton Rouge door company. 
Our name references windows and sidings, but those are not the only services we contribute to Baton Rouge residents. Acadian's team of skillful experts perform many different home improvement services. 
Baton Rouge residents depend on Acadian Windows and Siding for strikingly beautiful doors and convenient customer service. Your new door is guaranteed to bring your home to life while preserving your family's safety and energy.
How Baton Rouge Doors Are Made at Acadian
We make and furnish three different types of door: entry doors, patio doors, and storm doors. Every type of door has multiple style and framework options. Acadian brings your home to life with innovative designs and high-grade materials for your entry door. 
Our doors are composed of:
If you would like to add a stain to your entry door, nobody does it better than Acadian. Our stains are applied by hand from our experienced craftsmen. After we apply the stain, your door will be oven-cured to warrant the lifetime of your door's finish. We only use the latest industry-grade electrostatic paint to apply a smooth coat to your door.
Acadian strives to provide customers with doors that are built to last. The authentic wood look of our doors are made by using new-age nickel vapor deposition technology. The compounds we use are formulated to prevent the depreciation of your door, making it extremely low maintenance.
Selecting Your Baton Rouge Entry Doors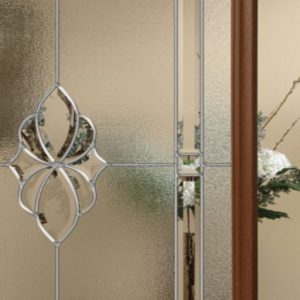 An entry door is usually the first thing that you and neighbors notice about your house. It will exude an impression about you, so it's essential to make it exactly what you want. 
Your home can acquire a custom-made entry door from Acadian that promotes optimum security, design, and ventilation. 
Our entry doors are available in fiberglass and steel. Many Acadian customers fuse decorative glass and wood stains to create a more personalized entry door. We have highly-skilled technicians that make breathtaking glass arrangements by taking meticulous care of every glass piece. 
Craftsmen at Acadian work diligently to form steady patterns and bubbles on every glass arrangement for light to illuminate into your home. They add different colors and designs to provide a personalized figure for your entry door. 
Acadian has two available systems that can sustain your entry door's character. We have a rot-resistant composite frame and exterior brickmold or our exterior PVC vinyl coated aluminum frame finish. 
Durable hardware is available by Schlage® and Emtek®, so the maintenance of your entry door is minimal.
Choosing Patio Doors Baton Rouge Residents Trust
Baton Rouge customers admire our patio doors for their muted and smooth capabilities. Acadian's patio doors are easy to maneuver, reputable, and safe, as every patio door should be. 
Our custom-made multi-chamber system enables your patio doors to remain stable during severe weather while maintaining energy-efficiency. 
All of our patio doors are patented with a self-lubricating sliding system that incorporates tandem wheels to operate gently and simply. 
Our patio doors feature:
Solid frame

Self-cleaning tracks

Anodized aluminum track built into ridge

Adjustable spring-loaded suspension system

Steel reinforced panels
Acadian has patio doors available in 2-panel, 3-panel, and 4-panel configurations.
Baton Rouge Storm Doors that Are Built to Last
In the Gulf South, the weather can be unpredictable. Acadian's storm doors are designed to always ensure your protection from Louisiana's potentially harsh weather. Our storm doors add more than just protection to your home. They also provide more light and improve your home's quality of air. 
At Acadian, we use extruded aluminum frames for our storm doors because they can withstand stronger forces without bending easily.  
Our storm doors are equipped with tempered glass—offering customers further protection because it's more durable than standard glass.  
Acadian's collection of storm door systems allows customers to choose a style and color that best suits their home. Once you've made your choice, your storm door will be baked in the oven to maintain its fresh look.
The Best Doors Baton Rouge Has to Offer
Ready to add the doors Baton Rouge residents can't get enough of to your home? Acadian Windows and Siding is proud to serve you. 
From our customer service team to our qualified craftsmen, Acadian expertly guides you through the process of enhancing your home's appearance. 
To learn more information about your Baton Rouge door company, contact us today!