Doors Arabi, Louisiana
Shopping for the best doors Arabi has to offer? Shop no further than Acadian Windows and Siding. Don't be fooled by our name: we specialize in a variety of home renovations, including high-quality doors. Whether you're in need of an entry door, patio doors, or a storm door, our custom doors are guaranteed to enhance the beauty and durability of your home.
Trusting a company with your home renovations is no small task. Your home is your place for respite and comfort, and you can't allow just anyone to tinker around with it. Luckily, Acadian has a reputation for treating every home as if it is our own. We couldn't have been awarded consecutive Angie's List Super Service awards or an A+ rating from the Better Business Bureau if we didn't.
Read on to discover why the doors and the services at Acadian are unparalleled.
How Arabi Doors Are Made at Acadian
If you're looking for doors Arabi citizens love, then you've come to the right place. We pride ourselves on offering doors crafted with the highest expectations when it comes to both function and form. We also handle the entire installation process for you.
Our doors come in three main types: entry doors, patio doors, and storm doors. No matter the needs or aesthetic of your home, we can create the door of your dreams.
Arabi doors made by Acadian are more than just doors: they are public statements to the world of your home's personality. That's why we offer doors with numerous customization options, from hand-crafted stained glass panes to one-of-a-kind stained doors.
We lovingly craft our doors from steel, fiberglass, and wood. These durable materials will stand up to whatever the tempestuous Louisiana weather might throw your way. We further reinforce our doors by curing them in the oven. This process strengthens their core matter and adds extra durability to the hand-crafted designs.
Selecting Your Arabi Entry Doors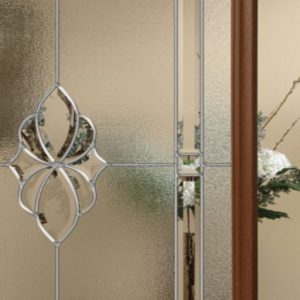 Your entry door is more than just something that's part of the exterior of your home. It is your opportunity to make an artistic statement to the world about the type of home you own and the people who live there.
Nobody can help you make such an artistic statement better than Acadian. Every single stain upon our entry doors is hand-painted to ensure that there's no other door like yours not just in the neighborhood, but in the world.
We also offer panes of stained glass created by local artisans to further enhance the uniqueness of your entry door. Choose from a variety of patterns and colors to create the design that best complements your home.
Even as your door makes its aesthetic statement, it also protects your home from bad weather and intruders. That's why we make our doors to last with either PVC vinyl coated aluminum frame or exterior brickmold and rot-resistant composite frame. Acadian entry doors protect you and your loved ones while still looking beautiful.
Choosing Patio Doors Arabi Residents Trust
Although Arabi citizens are familiar with high winds and rains, we also get to enjoy many days with more pleasant weather. On those days, whether you're hosting a garden party or just enjoying some alone time on the porch, nothing beats a fabulous patio door welcoming you into your backyard.
Patio doors tend to get a bad rap for becoming rusty and squeaky the more they're used, but not at Acadian. Our patented self-lubricating sliding doors guarantee a smooth opening and closing every time. Even if bad weather does strike, the weather stripping on these patio doors helps ensure that you don't annoy the neighbors or your family with any high-pitched squeaks.
We are proud to offer patio doors that also include:
Your choice of 2-panel, 3-panel, or 4-panel configuration
Tracks that clean themselves
Anodized aluminum track built into sill
Spring loaded suspension system that's adjustable
Arabi Storm Doors that Are Built to Last
Although we are blessed with lots of great weather in Arabi, we're unfortunately no strangers to bad weather, either. When you choose an Acadian storm door, you can rest easy knowing that your door was designed to endure all types of weather while keeping your family safe inside.
We create our storm doors from the toughest aluminum frames around. The panes are made from tempered safety glass, the same durable material found in your car windshield. Even our infamous Louisiana winds and rains won't be a match for one of our storm doors.
For those occasions when it is nice outside, our storm doors allow your home to be flooded with the beauty of natural lighting. This also raises the energy efficiency of your home, as you won't need to use as many lightbulbs or turn on the heater as high.
The Best Doors Arabi Has to Offer
When it comes to doors Arabi residents trust, Acadian Windows and Siding is the place to go. Our doors are made from materials designed to resist all types of rains, winds, and other things that would wear 'n' tear most other doors. We also offer numerous customization options to make sure that your door is more than a necessity, but a lovely part of your facade. Contact us today to discover how our Arabi doors can provide your home with the pizazz and security you're looking for.