Doors Abita Springs, Louisiana
If you're looking for doors Abita Springs residents will love, you needn't look any further than Acadian Windows and Siding. Our doors excel like no others at both form and function. You can depend on doors from Acadian to shelter you from bad weather and enhance the aesthetic of your home all at the same time.
When it comes to home renovations, you need more than just durable and attractive products. You need a company you can trust to respect the sanctuary of your home. Our clients know that Acadian Windows and Siding is a name they can count on. Our consecutive Super Service awards from Angie's List serve as testimony to that fact.
Give us a chance to prove the superiority of our doors and customer service to you. We do not believe that either will disappoint.
How Abita Springs Doors Are Made at Acadian
On the hunt for the perfect door to add to your home? Let Acadian help.
Whether you're looking for an entry door, patio door, or storm door, we've got you covered. Our doors are no ordinary run-of-the-mill doors: each one is uniquely customized to match the needs and style of your home. We also install the doors for you so that your home renovations can be as worry-free and easy as possible.
Acadian doors are made from three primary materials: steel, wood, and fiberglass. All of these materials have proven records of resisting damage caused by perilous winds, flood waters, and other stressors that might cause other doors to warp or crack.
Choosing an Acadian door means choosing to outfit your home's exterior with a one-of-a-kind art piece. Every single stained door and decorative piece of glass is hand-made by artisans.
You deserve a door that will provide beauty and durability for years to come. Let our Abita Springs doors be that door for your home.
Selecting Your Abita Springs Entry Doors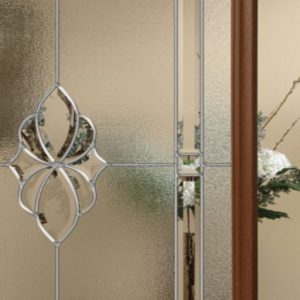 Your entry door is the gateway to your home. The door leading to the rest of your house should be capable of both protecting your family and of reflecting your home's personality. When you purchase one of your Abita Springs doors, you know that you're purchasing a door capable of both.
Our doors can be created with several different materials in order to best capture the style of your home. Choose from fiberglass or steel, as well as an array of colors and door stain patterns.
As if that weren't enough, you can create the entry door of your dreams with our decorative glass. These glass works of art can be created by our artisans in so many different shapes and colors.
If harsh Louisiana winds and rains come knocking, your Acadian entry door will stand strong. Our Abita Springs entry doors are made from either rot-resistant composite frame and exterior brick mold or a PVC vinyl coated aluminum frame. These hefty materials ensure that your family will be sheltered from bad weather.
Choosing Patio Doors Abita Springs Residents Trust
When it comes to patio doors Abita Springs homeowners love, Acadian is the place to go. You won't find patio doors anywhere else in town as sophisticated, dependable, and quiet.
We've all heard patio doors that make those dreaded high-pitched shrieks. Luckily, Acadian patio doors are never among those. Our patented self-lubricating sliding system makes sure that every open and close of your patio doors is quieter than a mouse.
Just because our patio doors are quiet doesn't mean they aren't tough. Acadian sliding doors are equipped to stand up to the fiercest of Mother Nature's temper tantrums. Our patio doors are reinforced with steel to make sure that even an Abita Springs storm won't bring them down.
Our patio doors also feature:
Adjustable spring-loaded suspension system
Self-cleaning tracks
Choice of 2-panel, 3-panel, or 4-panel configuration
Anodized aluminum track built into the sill
Abita Springs Storm Doors that Are Built to Last
There's a lot to love about Abita Springs, but all those storms isn't usually one of them. But when you purchase an Abita Springs storm door, you can love the fact that your storm door protects you and your family from harsh weather.
We create our storm doors from extruded aluminum frames and tempered safety glass. That's because these hardy materials won't warp, crack, or receive any other damage even when the weather outside is frightful.
Even when it's not storming outside, our storm doors provide numerous benefits to your home. Acadian storm doors fill your rooms with an abundance of natural light and increase the energy efficiency of your home.
Worried that your storm door will stick out from the rest of your house like a sore thumb? Don't be. Our storm doors come in a variety of fashionable looks and colors to complement the existing aesthetic of your home. Our doors are all oven-baked, so you won't have to worry about the paint finish chipping away, either.
The Best Doors Abita Springs Has to Offer
At Acadian Windows and Siding, we offer a variety of beautiful doors you and your loved ones can depend on. We also offer exceptional and trustworthy customer service. Contact us today to learn more about how our doors can help give you the simple, resilient, and fashionable home renovations you deserve.